New Groups Consider ISO Auditing Practices
The International Accreditation Forum, ISO/TC 176 and CASCO have formed the ISO 9001 Advisory Group, a mutually representative group to consider the credibility of ISO 9001 and its certification.
Under the guidance of IAF, the IAG is responsible for:
Monitoring the credibility of ISO 9001 for certification and providing feedback to each of the component members of the group

Providing a forum for discussion of user satisfaction and creating action plans when complaints or indications of concern are identified

Identifying issues that indicate the need for official ISO/TC 176 interpretations to ISO 9001:2000 or specific IAF guidance

Providing feedback to ISO/TC 176 on the acceptance of its standards and providing input for future revisions

Acting as a basis for "shadow" committees on a local or regional basis for ISO member bodies and accreditation body members of IAF.
ISO/TC 176 is the committee responsible for forming the ISO 9001 quality management system, and CASCO is the ISO Committee on conformity assessment.
During a September meeting, the IAG identified a lack of understanding of the process approach to auditing. ISO/TC 176 is currently initiating a revision of the Guidance on the Process Approach, and the IAG has plans to develop specific guidance on best practices for auditing to the new standard.
The IAG met in February to discuss actual and potential threats to the credibility of ISO 9001. During the meeting, the group reviewed the factors affecting ISO 9001 credibility, compiled relevant initiatives by members of the IAG, performed a gap analysis to identify problems not currently addressed by IAF members, and assessed the progress of transition to the new standard.
Additionally, IAF agreed to formalize the group's composition to ensure a balance of interests from industry, accreditation and certification bodies, auditing practitioners, ISO/TC 176, and CASCO.
The first meeting of the Good Auditing Practice group also took place in February. GAP discussed the development of practical guidelines on effective means of auditing against ISO 9001:2000 for third-party registrars. These guidelines will be compiled into a "how to" document with practical examples, forms and other tools that address past poor practices and recommended good practices.
The activities of IAG and GAP will parallel work already underway by the IAF to encourage a competence-based approach to accreditation audits. The overall direction for both groups is toward maximizing the effectiveness of results-based auditing.
The IAF is a global association of conformity assessment accreditation bodies and other bodies interested in conformity assessment. To learn more, visit www.iaf.nu.
IAF's Relationship with ISO
The International Accreditation Forum works in liaison with the following four ISO technical committees:

ISO/TC 176--Scope includes standardization of generic quality management systems and supporting technologies, and specific standardization at the request of affected sectors.

ISO/TC 176/SC 2--A subcommittee of ISO/TC 176. The group is directly responsible for 10 ISO standards.

ISO/TC 207--Responsible for standardization of environmental tools and management systems.

CASCO--The ISO Committee on conformity assessment. CASCO's responsibilities include studying the conformity assessment of products, processes, services and management systems to standards or other technical specifications; preparing international guidelines and standards relating to testing, inspection and certification of products, processes, and services; assessing management systems, testing laboratories, inspection bodies, certification bodies, accreditation bodies and their operations; and other duties.
Study Reveals Need for Vision Technology Standards
The machine vision industry generated revenues of $1.12 billion in 2002 and estimates revenues of up to $2.62 billion by 2009, according to a recent study conducted by the consulting group Frost & Sullivan.
"World Machine Vision Inspection System Markets" contends that because of this estimated growth, a common standard for machine vision technology is needed. Experts at Frost cite two major reasons to develop a common standard: increasing system component capability options and making systems more appealing to end-users.
"The lack of operating standards within the machine vision industry creates difficulties in developing and operating vision systems, and end-users often can't connect desired components," explains Sunderraju Ramachandran, research analyst at Frost & Sullivan. "Conflicts between components, computer software and hardware technologies and user interfaces reduce credibility for the industry as a whole because there is no plug-and-play for generic systems."
End-users want systems that contain more robust technology, have greater potential applications and add value, the document states. Also in demand are simpler user interfaces to allow comfortable interaction with the system, regardless of the level of technical knowledge. Other areas that need focus include optical character- and pattern-recognition algorithms, resolution and image mapping.
A major hurdle for machine vision technology is increasing buyer awareness of the capabilities of vision systems and eliminating consumer skepticism created by earlier, less capable systems.
The study is organized by industry: automotive, electronics, semiconductor, food, pharmaceutical and world vision systems markets. Each section contains an overview of the state of machine vision technology within that market, along with revenue forecasts, demand analyses, market and technology trends, and pricing trends.
Frost & Sullivan provides strategic growth consulting and market analysis. To obtain a copy of "World Machine Vision Inspection System Markets," call (877) 463-7678 or visit www.testandmeasurement.frost.com.
Countdown to ISO 9001:2000 Transition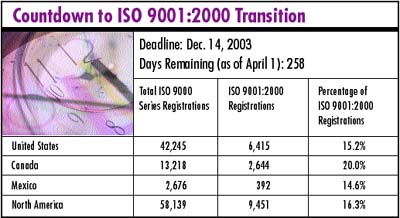 Six Sigma Success for Staffing Services
By now, anyone even remotely interested in quality knows that Six Sigma is the hottest defect-reducing tool out there. Beginning with Motorola, the methodology has worked its way through a host of industries, namely manufacturing and service organizations.
As Six Sigma steadily penetrates U.S. organizations, many are hesitant to begin the implementation process, thinking that Six Sigma doesn't apply to them. Many organizations assume that Six Sigma won't work because it has never before been implemented in their industry. Other organizations, such as Volt Services Group, are proving them wrong.
Volt Services Group, the staffing business unit of Volt Information Sciences Inc., has announced that it is the first leading staffing company to implement Six Sigma.
"Volt uses Six Sigma to consistently quantify and track process improvements, maximize employee productivity, improve service delivery, enhance our organizational focus and efficiency, and accelerate the adoption of new staffing technologies," explains Jerome Shaw, executive vice president and co-founder of Volt Information Sciences. "Many of our top customers are Six Sigma companies as well. Six Sigma will give us the tools we need to align Volt's service strategies to our customers' workforce objectives."
Volt's Six Sigma initiative began in August 2002 with the appointment of Excelsis Magno, a certified Master Black Belt, to the position of director of business process improvement. Magno is responsible for executing Volt's Six Sigma strategy, developing necessary tools and overseeing the implementation of the initiative.
So far, Volt has reached several milestones, including the formation and training of its senior executive leadership council for Six Sigma, communication of the Six Sigma mission to its more than 31,000 employees, and the identification and acceptance of key projects.
Volt is also deploying and training individuals within its organization as Black Belts, selected among the company's highest performing employees.
Volt's staffing services segment fulfills information technology and other technical, commercial and industrial placement requirements on both a temporary and permanent basis. For more information, visit www.volt.com.

ISO Considers Creating Social Responsibility Standard
An advisory panel has recommended to the International Organization for Standardization that it should consider developing standards that address the social responsibility of organizations.
To determine whether ISO should pursue creating social responsibility standards, the advisory group recommended that the organization develop a technical report surveying the worldwide state of social responsibility codes, guidelines and specifications. In addition, the group advocated a justification study to prepare a management system guideline standard that specifically includes a process for the self-declaration of conformity and excludes conformity assessment involving third-party certification.
The advisory panel is headed by Daniel Gagnier, chairman of ISO/TC 207, the technical committee responsible for the ISO 14000 series of standards. The panel comprises representatives from various stakeholders, including businesses, government regulators, trade unions and consumers. The provisional working definition of social responsibility used by the panel is "a balanced approach for organizations to address economic, social and environmental issues in a way that aims to benefit people, communities and society."
The recommendations were developed from the advisory group's February meeting in Geneva and were reviewed by the ISO council in March. The technical management board initially convened the advisory group to examine whether standardization would add value to already existing corporate social responsibility programs.
Currently, Social Accountability International's SA8000 guidelines are broadly recognized as one of the strongest social responsibility standards. Based on International Labor Organization conventions and the United Nation's Declaration of Human Rights and the U.N. Convention on Rights of the Child, the standard covers nine issues related to social responsibility: child labor, forced labor, health and safety, freedom of association and the right to collective bargaining, discrimination, discipline, working hours, compensation, and management systems.
To learn more about ISO's actions toward a social responsibility standard, visit www.iso.org. For information about SA8000, visit www.cepaa.org.
Financial Organization Implements Six Sigma Alternative
Organizations have several options when choosing a quality initiative: Six Sigma, ISO 9001, lean manufacturing, 5S, quality circles, total quality management, kaizen… the list could possibly fill this page. Perhaps the reason there are so many quality improvement strategies is that no one organization is exactly like another. And when companies find that these prepackaged quality "shoes" simply don't fit, many fashion their own using elements of existing methods.
One such company is Countrywide Financial Corp., which has developed and implemented FASTER, a proprietary project management methodology modeled after Six Sigma. The company asserts that FASTER is more accessible and applicable to a financial services environment
FASTER is an acronym for the six steps in the life cycle of a project: flow, analyze, solve, target, execute and review.
"We anticipate Countrywide will, over time, realize dramatic positive returns on our investment in FASTER," says Stanford L. Kurland, CEO. "Already, more than 500 projects have either been completed or are currently underway."
The initiative provides tools for flowcharting, financial analysis, structured meetings and management reports. It has been adopted as the company standard to create a consistent project management approach and a common language for employees throughout the company.
Countrywide began its quality overhaul in January 2001, when the company created its Performance Management Group to spearhead strategic initiatives and formalize the company's continuous improvement culture. The group developed the FASTER methodology and trained employees on its application.
To learn more, visit www.countrywide.com.