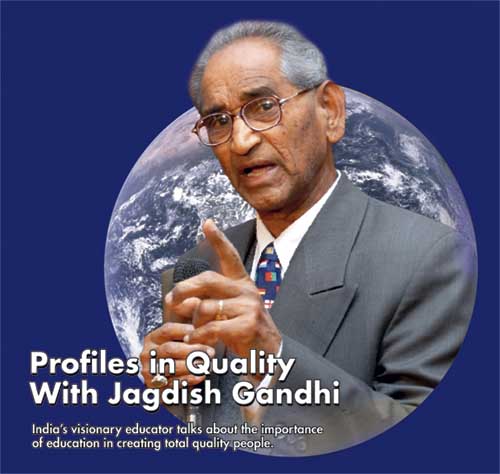 The City Montessori School of Lucknow, India, is the world's largest private school in a single city, with more than 31,000 students on 20 campuses spread around the city of 2 million inhabitants.
The school started out as the vision of Jagdish Gandhi, who with his wife, Dr. Bharti Gandhi, founded the school in 1959. They had an initial enrollment of five students.
Inspired by the spiritually based revolutionary work of Mahatma Gandhi--whose surname he adopted when Gandhi was assassinated in 1949--Jagdish Gandhi's vision was to create a school that would enhance the lives of its students by teaching what he calls the four pillars of education: knowledge, wisdom, spiritual perception, and eloquent speech.
In 1992, inspired by insights gathered while visiting Japan, Gandhi developed the concept of student quality control circles (SQCCs) and implemented them at his school. This year, the 10th International Convention on Students' Quality Control Circles will be held at CMS, Nov. 28-Dec. 1.
Here, Jagdish Gandhi discusses his vision for creating a better world by encouraging students to become total quality people (TQP) through all-encompassing, quality-guided education.
Quality Digest: Your biography makes it clear that your vision of quality education includes a spiritual aspect that emphasizes universal brotherhood as a means of achieving quality in all aspects of life, yet modern international business sometimes seems to be lacking in spirituality. How can students of your system of education effect positive change in modern business practices?
Jagdish Gandhi: At CMS we impart three types of education: material education, concerned with the progress and development of the body; human education, that is to say, government, administration, charitable works, trades, arts and handicrafts, sciences, great inventions and discoveries, and institutions, which are the activities essential to people; and divine education, which consists of pursuing spiritual perfection.
Such an education takes into account the spiritual aspect of each student's personality, and changes his or her motivations to go beyond mere self-service. It brings about an overall improvement in the student's choices, options, judgment, and thoughts as an adult. The student is guided by an inner voice, which is the voice of God, and thus performance in business also improves. Such students, when they enter the world of business, are more likely to effect positive changes in modern business practices by integrating innovative business practices with social welfare goals.
QD: What type of screening processes do you employ when recruiting, interviewing, and hiring teachers for the school?
JG: Prospective teachers are first asked to take a written exam, which tests their cognition skills, and depending upon the results of that test, the quality assurance and inspection department of our school shortlists candidates for interview. In the interview, candidates are asked questions such as: "What kind of human beings do you think your students should be, and what do you think you can do to make them those kinds of human beings?" and "How important do you think spiritual education is in the education of a student?"
Based on answers to questions like these, and the scores of the written tests, teachers are selected. Thereafter, new teachers also go through an elaborate orientation process in which they are inducted into the school's ethos of TQP and its approach to education.
As a teacher, you work with young people every day. What are your thoughts about the correlation of the ways in which we educate our children and the future of world peace, prosperity, and quality, both in business and in personal life?
JG: My belief is that the world's future peace and prosperity, and the quality of business as well as of personal lives, will depend critically on the way in which we educate our children.
I believe that since war begins in the minds of men, it is in the minds of men that the defenses of peace must be constructed. If we teach children to have global understanding and love toward all mankind, they will never think of war as a solution but will rather seek nonviolent means to settle disputes.
If children are given a balanced education incorporating material, human, and spiritual education, they will measure success not just in terms of money or material gains, but will also realize that they are part of a society, and hence, they have to work for the welfare of society.
QD: Your original inspiration for SQCCs came from a visit to Japan, where you learned about the concept of continuous improvement. Please tell us about that trip to Japan, and the impressions it made on you.
JG: The story of SQCCs goes back to 1992 when I first visited Tokyo and came to know about quality circles (QCs). Returning to my hotel one evening, I found the hotel staff gathered around a table animatedly discussing something. Fearing a crisis of some sort, I offered to help, and was surprised to know that it was a routine QC meeting of the hotel staff. Upon further inquiry I learned about kaizen , the ancient Japanese philosophy of pursuing continuous improvement as a way of life, on which QCs are based. I also learned about Professor Ishikawa's pioneering work and the problem-solving techniques developed by Deming and Juran.
Since the creation of the SQCCs, what are the greatest practical innovations that have come out of the students' discussions?
JG: All campuses of CMS have adopted the QC concept, where teachers and student groups conduct discussions on improving the standard and quality of education. Our SQCC discussions have suggested several innovations, which have been put into practice at CMS. Some of these are:
• The teacher home-visit scheme.The home visits by CMS teacher-guardians have been very effective in fostering a strong bond between school and home, as well as between teachers and their students. Interestingly, many of these relationships go beyond the school years, and the students keep in touch with their teacher-guardians, often seeking advice and guidance many years after leaving CMS.
• Model class presentation.A program for every section of a class, from pre-primary to higher secondary classes, is organized by children and attended by their parents every year. Every child comes on stage, presents an item, performs an experiment, takes part in a drama/debate or discussion, recites a song, or presents a poem, which enables him or her to shed stage fright and develop confidence in public speaking.
• Innovation wing.We are probably one of only a very few schools in the world to have an innovation wing to experiment with and innovate new methods of teaching.
• The education of parents.CMS organizes meaningful and educative "Parents' Days," "Mothers' Days," and "Spiritual Education Conferences" for the education, guidance, and training of parents.
QD: Your embrace of quality led to this subject becoming part of your school's curriculum. Are there other nontraditional fields of study that you have brought into the curriculum as well?
JG: Although we follow the curriculum prescribed by the Council for the Indian School Certificate Examinations in New Delhi, we are organizing many other activities for children to make them broad-minded global citizens. These include: World Peace Prayer Ceremonies under the aegis of New York's World Peace Prayer Society; 24 international student events in science, computer science, literature, etc; All Religions Prayer before commencement of major school events; SQCC presentations; and the presentation of a float/tableau based on world peace and unity during the annual Republic Day parade.
QD: This year's international convention on students' quality control circles will be the 10th such convention since 1994. How have the conventions evolved?
JG: I collected as much literature on QCs as I could, and once I came back from Japan in 1992, I introduced the concept to our principals and motivated them to adopt the same. The concept was borrowed and successfully transplanted in the field of education in 1993 when CMS students constituted the world's first SQCC, Jai Jagat ("Glory to the World"). This groundbreaking case study won a number of awards at national and international QC conventions in India, Hong Kong, and Sri Lanka. Today, SQCCs have been formed in the United States, Switzerland, Sri Lanka, Mauritius, Australia, Singapore, Bangladesh, Nepal, Malaysia, and India, among other countries.
Many SQCCs by CMS students have been formed with peace as the basic theme. To strengthen the fledging worldwide SQCC movement, a World Council for Total Quality and Excellence in Education was established in February 1999, with international QC experts from eight countries on the board of directors. (Editor's note: Don Dewar, president at QCI International Inc., is one of these board members. QCI is the parent company of Quality Digest. ) The WCTQEE coordinates student quality control activities worldwide and works for popularizing QCs in schools and colleges.
QD: You have accomplished many remarkable things in your life. Is there any one achievement that you consider your finest contribution?
JG: I regard organizing annual conferences of international chief justices under Article 51 (c) of the Constitution of India as something very special. These conferences are organized to devise ways to ensure a safe future for today's children and for generations yet to be born. Article 51 says that the state shall endeavor to: a) promote international peace and security; b) maintain just and honorable relations between nations; c) foster respect for international law; and d) encourage settlement of international disputes by arbitration.
The first international conference of chief justices was held in 2000. It was attended by a sizeable number of chief justices, senior judges, legal luminaries, and peace activists. Since then, seven such conferences have been organized with increasing participation of the world's legal fraternity, heads of state, law ministers, and peace promoters. The eighth international conference of chief justices is scheduled to be held in Lucknow, Dec. 8-10, 2007.
QD: As your students from CMS graduate and move on to higher education and careers beyond the school, what advice do you give them for facing the challenges of dealing with educators and businesspeople who may not share their ideals of world unity, spiritual awareness, and compassionate teamwork?
JG: I have firm faith that the students from CMS will make a special impact in any organization by their humility, honesty, sincerity, and professional competence. We have ample instances of our students shining in their careers in the United States, Australia, Singapore, and China. We are maintaining a panel of our former students who have done us proud. In our country, CMS sends the largest number of students from any one school for higher studies in science, engineering, medicine, and computer studies.
I always address the students before they leave the school for higher studies or professional courses, and exhort them to always remember the basic teachings of CMS. Through their good example, CMS students can win over to their beliefs those who otherwise do not share their ideals.
About the author
Carey Wilson is Quality Digest's news editor.