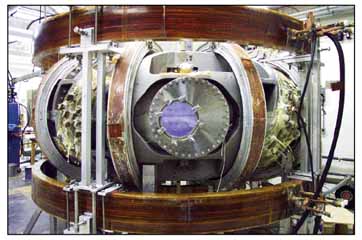 Auburn University's CTH, components of which were measured by Romer's portable CMM.
Nuclear Fusion and Unlimited Electricity

ROMER portable coordinate measuring machine
J. P. Pattern Inc., a machining and foundry-pattern shop near Milwaukee, is helping to build machines that may eventually harness nuclear fusion to solve the world's energy problems. However, the company's day-to-day concerns are more mundane--create a pattern for 10 identical aluminum-alloy castings, rough- and finish-machine them, and then verify that their dimensions meet all specifications.
The machine for which J.P. Pattern built these components is the compact toroidal hybrid (CTH) at the Auburn University physics department. The device advances research into fusion power, and relates to a larger effort to harness nuclear fusion for the production of electrical power. The CTH winding frames consist of two sets of five castings that make up five helical mandrels. "The biggest dimensional challenge was measuring and inspecting warpage in the castings due to the way the castings cool and the forces of machining," says Gerald "Gary" Puhl, J.P. Pattern vice president.
These critical measurements were done with a portable coordinate measuring machine (CMM) from ROMER Inc., a Hexagon Metrology company. The flexibility of the ROMER arm allowed Puhl to measure the two fully assembled sets of castings while standing in the toroidal center openings.