The Manufacturing Skill Standards Council, a new coalition of labor and industry, will address increasing demands for occupational skills in the U.S. manufacturing sector. Overseeing manufacturing, installation and repair, the MSSC is the first of 15 industry councils that together will represent 95 percent of the U.S. working population. The effort was launched by the National Skill Standards Board, a congressionally mandated organization formed in 1994.
"We're attempting to create a voluntary, business-led set of skill standards for front-line workers, something nobody has ever done before," says James Houghton, NSSB chairman.
The MSSC currently consists of 30 people, with an equal number of representatives from business, labor, government and education and community-based organizations. The group's goals include developing a language and standards system common to all stakeholders, codifying performance-based skills standards, and establishing proper assessment procedures and a sector- specific certification system. Reaching these goals will require examining the skill standards already in place.
"We're looking at academic employability or work-related skills," declares Edie West, NSSB executive director. Decision making, problem solving, communicating and teamwork all factor into the skill set, she says.
"Many of the unions have been developing skill standards," explains West. "Everyone is in agreement that this is needed, so they are laying aside their shields and armor."
Defining and certifying workplace skills -- as well as considering their portability -- remain major considerations for the MSSC, notes Robert Baugh, assistant director for communication and work force development at the AFL-CIO's human resources development institute. "There aren't clear career paths and steps for people to take," he observes. "This is an opportunity to address serious training and education issues for front-line workers. We must find a way to create better workplaces in this country and better opportunities for people."
Labor and industry, usually considered antagonistic, have worked well together during the effort, observes Houghton. "The labor unions have behaved extremely well," he notes.
Baugh elaborates: "We've had a few disagreements along the way, but that's simply to be expected. It hasn't been antagonistic or adversarial. Will we disagree down the road again? Probably. I think there will be tough issues that we will struggle over."
For more information about the council, contact the NSSB at telephone (202) 254-8628 or visit the NSSB Web site at www.nssb.org.

Work-Study Program Teaches Core Skills
St. Louis-based precision assembly machine manufacturer is committing $150,000 annually as part of an effort to address the shortage of skilled workers in the United States. Hydromat Inc., and its newly founded Hydromat Education Foundation, will work with St. Louis trade schools and community colleges as part of a work-study program to educate high school graduates in areas including manufacturing technology, process design and office management.
Bruno Schmitter, Hydromat's president and CEO, spearheaded the endeavor. A native of Switzerland and graduate of a Zurich-based trade school, Schmitter confronted a problem when his children entered high school and he began considering U.S. secondary education.
"Something didn't quite make sense," recalls Schmitter. "Twenty-five percent of all high school graduates enter and finish a four-year college. What are the other 75 percent doing?" At the same time, Hydromat was growing and struggling to find enough qualified workers.
The Hydromat Education Foundation is an outgrowth of those two concerns. Hydromat will choose high school graduates to sponsor in apprenticeship programs that begin with two years at a trade school and include time training with Hydromat. "We're trying to model the individual we need in our facility," explains Schmitter. "We don't want to train someone who doesn't have a future within our company."
For more information, contact Hydromat Inc. at telephone (314) 432-4644 or visit the company's Web site at www.hydromat.com.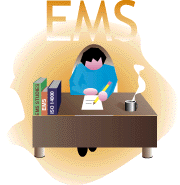 Thirty-Six Hour Course
Required for EMS Auditors
After reviewing feedback from participants and instructors in its environmental management systems auditor accreditation training courses, the Registrar Accreditation Board has mandated a full 36-hour EMS training course for all EMS ISO 14001 auditor applicants. The RAB made the decision to ensure the program's credibility and stringency.
When it developed the EMS auditor program, the RAB remained open to the possibility of offering a shortened training course for applicants who had successfully completed quality management systems auditor training. Proponents of this shorter EMS class proposed tailoring training for certain professions. With this scheme, quality professionals would receive more information about environmental science and regulations, while environmental professionals would focus on management systems.
However, stakeholders favoring a 36-hour training course for all applicants pointed out that, despite some overlap in the general concepts of auditing management systems, course participants gain a thorough understanding of the specific standards -- either the ISO 9000 series or ISO 14001 -- through direct application during the longer, five-day course.
The RAB will review the training course issue again in about a year to make sure it is responding to both industry and auditing community needs.
For more information on the RAB's EMS auditor certification program, telephone the RAB at (888) 722-2440 or (414) 272-3937, or e-mail rab@rabnet.com.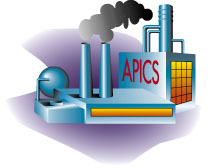 Education and Training Remain
Key Management Strategies
Many small and midsize manufacturers consider staff training and education key elements in their management strategies, according to a recent study by IBM and APICS -- The Educational Society for Resource Management.
The study's findings indicate that:

Education is most valued in the companies' manufacturing functions, followed by sales and distribution, business management, product development and supply-chain management.

The smallest companies spend on average the same amount of money per employee ($190 - $200) for education as do midsize companies.

Customer service is the main focus of corporate training, followed by quality management, committee/teamwork, project management, marketing and business planning.

Trade publications and colleagues are rated equally as best information sources, followed by professional and trade meetings, direct-mail brochures, consultants and sales representatives.

Onsite classes rate highest as the preferred method of education delivery, followed by offsite classes, books and manuals, CD-ROM, Internet, satellite television and mail correspondence.
The study polled about 500 senior-level managers in small and midsize manufacturing firms. Statistics were reported in small companies with fewer than 50 employees, companies with 50 - 499 employees and companies of 500 to 1,000 employees.
For more information, call APICS at (800) 444-2742 or visit their Web site at www.apics.org.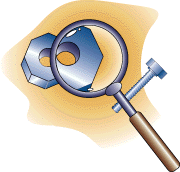 NIST Publishes Final Rule for Fastener Quality Act
The National Institute of Standards and Technology has published in the Federal Register the amended final rule for the Fastener Quality Act of 1990 and extended the act's implementation date to July 26, 1998.
The Fastener Quality Act of 1990 requires that fasteners identified by the act conform to the exact specifications represented by the manufacturer; provides for accreditation of laboratories engaged in fastener testing; and requires inspections, testing and certification in accordance with standardized methods for fasteners covered by the act. Along with extending the act's implementation date, the Federal Register notice:

Defines the procedures by which fastener manufacturers can use quality assurance systems and statistical process control after May 14, 1998, as evaluated by an accredited testing facility.

Allows manufacturers to test fastener lots for FQA compliance beginning May 14, 1998, in order for them to replace their non-FQA-compliant inventory with compliant stock.

Allows manufacturers to sell as non-FQA-compliant any fasteners remaining in their inventories. Fasteners produced after July 26, 1998, must be tested by an accredited laboratory or produced by an approved QAS/SPC manufacturing facility.


Permits manufacturers that operate QAS/SPC fastener production lines that have not been completely certified by July 26, 1998, to list their operation as provisionally certified, as long as specific conditions are met. Official certification must be completed by May 25, 1999.
NIST has determined that testing laboratories will require more time to complete the accreditation process mandated by the act. More than 150 laboratories already have been accredited, and another 300 are progressing toward accreditation by July 26, 1998. In addition, some 50 fastener manufacturers are expected to be QAS/SPC-qualified by the implementation date.
For more information on the FQA, contact Subhas G. Malghan at telephone (301) 975-5120, e-mail malghan@nist.gov or visit NIST's Web site at www.nist.gov/fqa/.
Actor John Cleese, co-founder of Video Arts, a Chicago-based training company, offers 10 organizational tips in his new video, The Unorganized Manager, Part Three: Divine Intervention. In the video, Cleese plays St. Peter at the Pearly Gates, dispensing advice on how to organize, prioritize and delegate.
The 10 time management tips are:
1. List your tasks. A things-to-do list is first. Don't worry about the order, just brainstorm tasks onto the page.
2. Categorize each task as "active" or "reactive." Positive, active tasks are those you must do to achieve your greater job objectives. Reactive tasks are the day-to-day actions that keep things running.
3. Determine the importance and urgency of each task. "A trivial task may be quite urgent if it entails a fast-approaching deadline," says Cleese. "On the other hand, you may never get to an important task because its effects aren't immediate."
4. Post a slavering, bloodthirsty Doberman at your closed office door. Ruthlessly guard as much uninterrupted time as possible to deal with active, important matters.
5. If you must count paper clips, count quickly. Set aside a regular, limited time to handle quick business like reports, correspondence and invoices.
6. Delegate the tasks you really enjoy. Give someone else the chance to run with the ball.
7. Be sure your team is "up to scratch." Tell your team what "scratch" is by defining overall job responsibilities.
8. Don't create unnecessary muckety-muck. Don't manage employees to the point of interfering with their work. Allow them to make decisions and mistakes.
9. Agree on targets. "For example," observes Cleese, "at Heaven's Gate, St. Peter's goal is to issue the induction manuals by the time the successful applicant has consumed the welcoming goblet of nectar."
10 .Remain available for questions and advice. Share your own experiences and mistakes and allow subordinates to learn from their mistakes.
For more information, contact Video Arts at telephone (800) 553-0091, ext. 2929, or visit the Video Arts Web site at www.video-arts.com.
University Renames Center for Juran
The University of Minnesota's Carlson School of Management has renamed its Quality Leadership Center in honor of Joseph M. Juran, one of the quality movement's foremost leaders.
Juran, who graduated from the University of Minnesota with a degree in electrical engineering in 1924, folded his $2 million Juran Foundation into the Carlson School's quality leadership program last fall.
The newly renamed Juran Center for Leadership Quality will carry on Juran's life work, extending his quality principles beyond business and into education, government, health care and other fields, in an effort to make the 21st century the "century of quality."
In a 1998 survey, U.S. News and World Report ranked the Carlson School of Management as one of the 10 best public business schools in the nation.