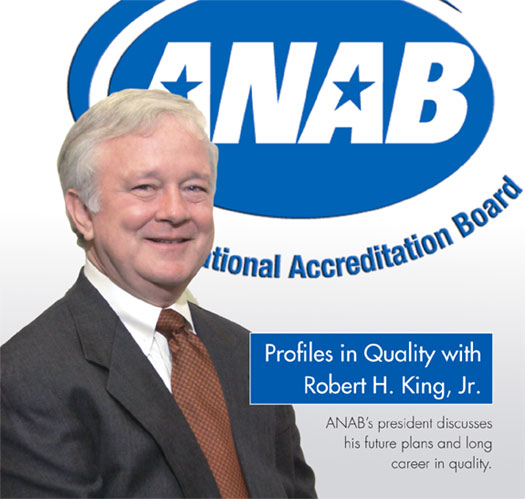 After nearly 30 years in industry, in positions for which he made quality a priority, Bob King, president of the ANSI-ASQ National Accreditation Board (ANAB), has announced his retirement.
King began his career at ANAB in 2001, after retiring from a long and distinguished career. He served as a military intelligence officer and worked for Dow Chemical before joining Bayer Corp. in 1985. King steadily worked his way from marketing manager to national sales director before becoming a vice president of the company. He became president of ANAB in 2001 and was instrumental in the rather complex formation of ANAB after the then-U.S. accreditation body, ANSI-RAB National Accreditation Program, evolved into RABQSA International, which now operates as a personnel certification body.
Here, King discusses his career, ANAB and his hope for a new transparency in the relationship between accreditation bodies and certification bodies.
Quality Digest: Where are you from originally?
Bob King: I was raised in Chester, South Carolina, a very small cotton mill town.
QD: What was your first job?
BK: My first venture into earning money was caddying at the local golf club for 45 cents per round when I was 12 years old. I saved my money and bought laying cages and chickens, and sold eggs and fryers in the neighborhood until I was 14. Then I gave up "farming" and went to work in a department store as a clerk in menswear. I was flush at 60 cents an hour.
QD: What was your first quality job?
BK: I like to think that all my jobs have been quality-related, but the first one that actually had that as part of my job description was marketing manager at Mobay (then Bayer Corp. in the United States).
QD: What were your duties there?
BK: I was responsible for thermoset plastic—polyurethane—sold to the automotive industry and therefore responsible, along with many other people, for the organization's quality system.
QD: How did you decide to accept the position?
BK: The quality duties associated with the job were part of getting the business into the automotive industry. I accepted it knowing that we would have to step up to the tough requirements of that industry. For me, it was part of running a successful business unit.
QD: Discuss some proud moments in your career. Which do you think is your proudest?
BK: This may sound funny, but I am proudest of having had some success in sales and never missing a birthday—never missing an anniversary, Valentine's Day, or one of my daughter's dance recitals or piano performances. That was of utmost importance to me.
I was also part of the team that helped to introduce lightweight plastics for body parts to the automotive industry for fuel performance and safety, and was part of the development team that worked on interior foam crash pads. In the appliance industry I was part of the team that won the first-ever Energy Star award. We increased energy efficiency in water heaters and refrigerators, and it was the technology that my team developed that removed the chlorine from blowing agents in appliance insulating foam, reducing its effects on global warming while not giving up energy efficiency.
I was part of an initiative that started inquiry-based science education in Pittsburgh area schools. I also started Bayer's diversity program in the polyurethanes division. For the entire time that I was vice president at Bayer, I led the polyurethane Pittsburgh site safety committee.
At ANAB, I found a way to form two companies: ANAB and, with the help of Michael Carmody, RABQSA International. We have achieved a greater influence at the International Accreditation Forum, especially with Randy Dougherty as chair of the IAF's technical committee. Best of all, I believe that we have a higher level of customer satisfaction—that's what the surveys tell me, anyway. Our whole staff is responsible for that. ANAB is now fully Web-based and interactive for our customers, making us much faster-to- market with decisions and easier to work with overall. Thanks to Lori Scheid-Gillespie, project manager for our Web-based EQM database.
QD: How did you come to your position at ANAB?
BK: I retired from Bayer and was looking for a position in which I would be able to give back a little to an industry in which I believed. Connie Conboy, who had been on quality teams with me at Bayer, was on the Registrar Accreditation Board and submitted my name to the search firm.
QD: How has ANAB evolved to best serve its certification body clients?
BK: I like to feel that our level of customer satisfaction is much higher than it has been. It costs less (except in a few cases) year over year to do business with ANAB. That's on an apples-to-apples comparison each year for the last five years. We have greatly expanded business opportunities for voluntary accreditation and made it easier for a qualified certification body to achieve accreditation in these new areas.
QD: What are some challenges you see for accreditation bodies?
BK: Accreditation bodies worldwide are working together more than they ever have. We need to expand on this trend and begin to harmonize our practices. We are beginning to see industry having confidence that a certificate issued in one country has the same rigor behind it as in another country. We can do this within the IAF Multilateral Recognition Arrangement (MLA), but the scope of the operations of the current MLA should be revised.
We need to better publicize the value of accredited certification and the value of a business process underpinned by ISO 9001 management systems. Our market penetration is not so mature that it could not grow vertically.
There is much talk about the competence of auditors. ISO 19011 and ISO 17021 in particular have stringent requirements concerning the competence of all staff participating in accreditation/certification decisions. This has to be defined to the point that it is the same in every economy.
Industry representatives need to be engaged at an early stage in the process. It is their system, and they should have a voice. Industry and other end-users have been silent, and it is up to the accreditation bodies to change that paradigm. It is imperative that we treat our client certification bodies as customers. This is not counterintuitive to accreditation bodies providing oversight because the accreditation decisions are made by independent committees. The operations in an accreditation body that serve the needs of the certification bodies are separate.
QD: How and where do you plan to spend your re- tirement?
BK: I am retiring to a Charleston, South Carolina, suburb and will volunteer with charitable organizations. If asked, I would like to stay in the quality industry in some fashion.
QD: Any word on who will take the reins of ANAB after you've retired?
BK: The board has secured the services of a search firm (WMD Consulting Search Group Inc. of Houston) to look for a successor. No one has been identified yet. Applicants can either contact me or go directly through Bill Davidson at WMD via e-mail at bdavidson.wmd@sbcglobal .net, by phone at (281) 870-1480 or by faxing (281) 870-1540.
About the author
Laura Smith is Quality Digest's assistant editor.