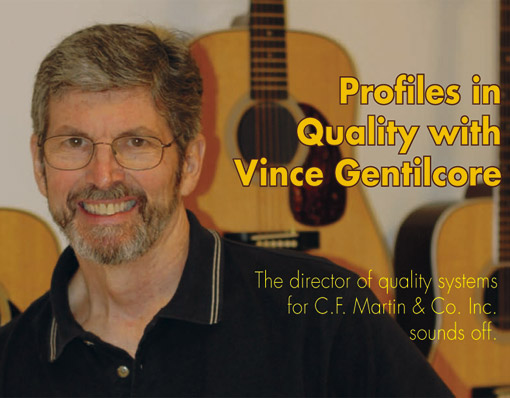 C. F. Martin & Co. Inc., has been making acoustic guitars since 1833. Located in Nazareth, Pennsylvania, Martin Guitar is still a family-owned business. The company's commitment to the quality of materials, processes, and customer satisfaction has been the underlying reason for its long-time recognition as a setter of industry benchmarks in acoustic-guitar design and construction.
Here, Vince Gentilcore, Martin Guitar's director of quality systems, discusses the processes that keep the company at the forefront of quality and technology.
Quality Digest: Please tell us about how and why you ended up choosing and being chosen by Martin Guitar to become its director of quality systems.
Vince Gentilcore: Before joining Martin Guitar, I was manager of quality systems at Bethlehem Steel's corporate headquarters, responsible for overseeing the development and implementation of ISO standards certified quality and environmental management systems across the company. My formal education was in engineering and science. Most of my career was in the steel industry, working in management positions in plant operations on the technical side, starting in metallurgy and evolving into quality assurance.
After leaving the corporate life, I started my own consulting firm specializing in quality and environmental systems management and worked part-time for a registrar as a contract auditor. It was during this period that I had the good fortune to consult for Martin Guitar and became interested in the company's quality culture and mindset. I became fascinated by their ability to consistently blend craftsmanship and technology to produce the finest acoustic instruments in the world. At that time, they were looking to expand the quality function beyond manufacturing and continually improve their business performance, which ultimately led to the job opportunity.
QD: How many employees do you oversee, and how do you communicate with them on a day-to-day basis?
VG: We have a team of 13 dedicated individuals in quality assurance who work actively throughout our organization of around 600 employees. The department is an independent entity that reports directly to Keith Lombardi, the president and chief operating officer. Our mission is to ensure that products and services consistently meet customer needs, to foster continuous improvement, and to strive for performance excellence. Objectives to accomplish our mission have been clearly defined and help align our thinking and focus, as well as promote teamwork.
Our department structure comprises tactical teams and specialists deployed by area and function who support both manufacturing and service groups, such as procurement, logistics, research and development, technology, and customer service. We interact closely with management and co-workers daily to maintain awareness of quality performance and issues.
Our preferred mode of communication is face to face; however, we have an array of regular meeting venues to exchange information across all levels of the company. A few of the more unusual and spontaneous venues are "Standup" and "Town Hall" meetings. Each department typically meets weekly with all of its employees, along with guests on occasion, to discuss business conditions and performance, issues and concerns, updates, changes, and general items of interest. In addition, there are company newsletters and various electronic forms of communication, including our company intranet.
QD: What kinds of quality issues are most common, and how does Martin Guitar deal with them in terms of spotting problems and verifying that they have been resolved?
VG: When issues arise, it is essential that they are surfaced, prioritized, and addressed as rapidly as possible by informing and engaging the appropriate parties. We classify issues into three general categories: material, process, and operator related. Typically the more common issues involve material variations and nonconformities, since we deal with many naturally occurring raw materials (most notably wood and pearl), and process issues. For example, knots, windbreaks, and wormholes in wood affect yield, productivity, and costs of quality. We have exacting specifications and controls in place to evaluate and detect wood-related issues, some of which don't become apparent until later processing of individual parts. When discrepancies are found, an objective decision is made whether to rework or destroy the part. We don't allow material to go into a guitar that doesn't satisfy our requirements.
As for process issues, an example would be excessive tool wear on a computer numeric controlled machine for producing mahogany rear blocks that results in dimensions that are outside specified tolerances.
Regardless of the type of issue, we focus on identifying the underlying causes, developing solutions and controls, and monitoring effectiveness to prevent or minimize recurrence.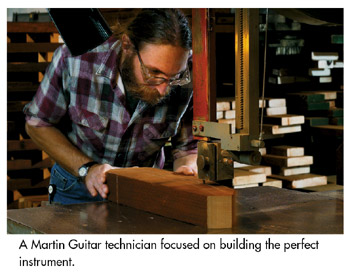 QD: For a company like Martin Guitar that deals with many different components, from woods and electronics, to finishes and exotic inlay materials, what are the greatest supply-chain challenges?
VG: Topping the list of challenges by far is the supply of strategic wood species, which is the largest volume of material purchased in terms of cost, consumption, and consequence on our finished products. The specific issues are limited availability and diminishing quality of certain precious tone woods. Although we have well-established relationships with suppliers around the globe, the issues we face are geographical, political, and environmental, and they are shared with other wood consumers both in and out of our industry. Sources of supply are dwindling, and restrictions have been imposed by the countries of origin for certain species such as rosewoods, mahoganies, cedars, and ebonies. Some restrictions were imposed by the Convention on International Trade in Endangered Species of Wild Fauna and Flora (CITES) , which is a treaty enacted and signed by 172 countries to implement controls on a worldwide basis. We are pursuing Forest Stewardship Council sources for woods that originate from forests managed in an ecologically responsible manner and are third-party certified. As a result, we need to learn how to work with less-than-ideal raw materials, and design methods for handling these issues without affecting product quality or production efficiency. It's imperative that we continue to look for and test new, alternative, and/or substitute species or materials to plan for the future.
We use a variety of different types of materials to build our guitar finishes, including fillers, sealers, stains, toners, and lacquers. Our primary issues revolve around ensuring material compatibility and environmental compliance, as well as testing new materials needed to meet changing process and product demands. Finishes are critical to our products, as they affect the playability, tone, and aesthetics of our instruments. In this arena, however, supply is typically not a significant issue.
As for electronics, our business partnerships focus on staying closely connected to the forefront of evolving technologies and ground breaking products, from the
equipment-manufacturer's perspective to consumers' viewpoints. The well-established supplier-customer relationship enables us to work together to design and test new hardware and software to anticipate and respond to changing requirements.
Inlay materials are integral and essential components in many of the instruments we produce, as they add character, individuality, and value. Inlays run the gamut from accents and highlights, to custom designs, to total works of art, all of which are tributes to the inlay artists and their talents. Our traditional materials are mother-of-pearl and abalone, but we also use other pearl such as gravalam, abalam, and blue paua. The scope of inlay materials is broad and varied, including precious metals, fossilized ivory, gemstones, and a variety of synthetic materials. In general, the supply and quality of these varied materials have not been a strategic issue.
QD: How many different types of wood does Martin Guitar keep on hand?
VG: There are well over three dozen wood species commonly used in the construction of Martin guitars, including some that are affected by CITES, such as Brazilian rosewood, big leaf mahogany, and Spanish cedar. We machine essentially all of our component parts from raw woods, including tops, backs, sides, fingerboards, necks, bridges, front and rear blocks, braces, and ribbon lining. Within each part type, such as braces, there are numerous individual parts with unique grade and dimensional requirements that are model-specific for different types of instruments. For our baseline Dreadnought guitar, there are approximately 150 parts, many made from wood, that are required to produce the final product.
QD: Do you have field personnel who visit the suppliers on a regular basis to verify that they are maintaining the standards of quality necessary for Martin Guitars?
VG: We have dedicated field staff in our sales districts who routinely visit our dealers, distributors, and warranty-repair centers, and if necessary, our suppliers, to assess conformance to standards and requirements. However, supplier visits usually involve staff from our corporate office in Nazareth and occur on an as-needed basis. These visits may include representatives from purchasing, manufacturing, research and development, technical services, and quality assurance. Visits can occur either at the supplier's site or our facility, depending on the situation and objectives.
QD: The use and storage of such a wide variety of very carefully aged/seasoned woods for the instruments must present some challenges to quality. How does Martin Guitar maintain and verify that its wood-storage facilities are kept at designated levels of heat and humidity?
VG: The care and storage of our extensive inventory of wood is carefully controlled in our special acclimating room, which is a large, dedicated portion of our physical facilities. The room has specially designed equipment to accurately control temperature and humidity to specified requirements, and the room is monitored and secured around the clock. Martin Guitar has developed well-defined requirements for storage and aging of all of our wood species. One of the key variables for process control is the equilibrium of the moisture content of the wood, which is determined largely by the water content or the relative humidity of the surrounding air. This parameter is recorded and tracked on a regular basis.
QD: Can you tell us about a particular problem or process at Martin that implementing lean and Six Sigma practices helped alleviate?
VG: Earlier this year, we started a lean-manufacturing pilot project in one area of the plant, using a cross-functional team composed of operators, engineers, and support staff. Since the project is in it's formative stages, we cannot comment on measurable results; however, the potential to improve production efficiency, work flow, and cycle-time holds huge promise. We have realized many tangible improvements from other disciplined activities that are currently in place, such as structured problem solving, continuous-improvement teams, and process-improvement projects. The improvements span all levels and functions of the organization, including manufacturing and support services, with beneficial results to transactional activities in accounting, scheduling, and sales, and production processes in body assembly, finishing, and final assembly. A few examples include reducing tear-outs in laminate bodies, reducing chip-outs in neck barrels, improving data collection for analyzing costs of quality, and improving the cycle time for processing fossilized-ivory nut material.
One of our core operating values is to continuously look for ways to improve safety, quality, materials, processes, and service. In pursuit of that objective, we also look to improve our methodology for continuous improvement to accelerate both the pace and effectiveness of our efforts to improve business performance.
About the author
Carey Wilson is Quality Digest's news editor.