This Week in Quality Digest Live
Akhilesh Gulati
Quality Insider
Structured Innovation: Online Marketing
Reducing dependence on distributors without losing sales
Published: Monday, May 6, 2013 - 12:09
Editor's note: This article continues the series exploring structured innovation using the TRIZ methodology, a problem-solving, analysis, and forecasting tool derived from studying patterns of invention found in global patent data.

T
he monthly innovation meeting commenced with Joyce, one of the council members and an executive in the insurance industry, reporting that her team was excited about the TRIZ solution the group had suggested to deal with the increase in claims processing.
Kevin, a council member anxious to work on his organization's challenge, put up the flip-chart sheets he had developed and reiterated his issue. His company had been selling its products to the entertainment industry through a distribution network where each distributor had a specified territory. But now, as e-commerce had become the standard way some customers purchased products, Kevin's team realized it could no longer ignore this critical marketing channel. Although distributors had served the firm well, becoming over-dependent on one marketing model had become a concern; an e-commerce platform would not only help reach a wider base of customers but also would allow customers to order at their convenience.
However, there was a potential challenge: Existing distributors were likely to think that online marketing would take away from their own respective sales. If this feeling was strong enough, the distributors might abandon Kevin's organization and go to its competitors.
Kevin then pointed to the flip chart, which showed his ideal final result (IFR) to be "increasing sales at no cost." In addition, the chart showed his initial thought about his TRIZ problem statement:

Need to improve:
• Reduce dependence on distributors
• Increase territory coverage for our products
• Increase penetration in the existing market

What gets worse:
• Stability (possible loss of revenue from current distributor-based sales)
• Personal interaction with customers (currently distributors are the direct contact; loss of customers could result)
• Number of distributors (increased attrition; distributors pull out)
Belinda, who had become the facilitator by default, asked if anyone in the group had any additional thoughts to get started.
One of the executives piped in, trying to clarify the problem by rephrasing it, one of the executive said, "You want to take advantage of today's technology—e-commerce—and gain access to customers not reached by traditional distributors. But you do not want to use e-commerce because the traditional distributors may not only go away but could join forces with your competition. Doesn't that create the same type of physical contradiction that we learned about at the last session?"
Kevin said he wanted both e-commerce and traditional distributors to work in tandem. He wanted to take advantage of new technology to achieve new sales, but he didn't want to lose customers who wished to continue working through distributors. At the same time he wanted to keep distributors because of their product/territory knowledge, and their ability to help customers choose the right products.
Henrietta, the consultant who had been listening to this exchange, reminded them of the four principles when dealing with known physical contradictions:
1. Separation of contradictory properties in time
2. Separation of contradictory properties in space
3. Separation between the whole system and its parts (but letting the contradictions coexist)
4. Separation based on different conditions; solve in a subsystem or a super system
It was clear that this was a classic use of TRIZ principle No. 3: Letting the contradictions exist. This, in effect, resolved the physical contradiction. However, coexistence created new problems.
She then drew a flowchart on the board (see figure 1), showing them that this could be an iterative process. They had analyzed the problem, selected a tool, and identified the physical contradiction via use of the third principle. Now as they evaluated the conceptual solution, they discovered a new problem. This meant they needed to go through the process again, but with a different focus. They needed to identify the contradictions, look at the principles that could help them solve the problem, evaluate the concept, and implement the solution. If the second conceptual solution identified another problem, they might have to repeat the cycle again. She explained that if this happened too many times, it was possible that they had not defined the original problem correctly.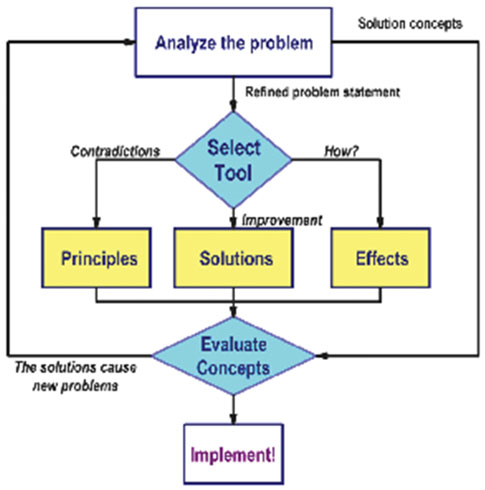 Figure 1: TRIZ problem-solving flowchart
Interest piqued, the executive council members pulled out their copies of the contradiction matrix (see figure 2). Belinda was the first to speak. "So we need to figure out what gets better and what gets worse," she said.
Seeing the perplexed look on everyone's faces, Henrietta stepped in. She suggested that they identify the attribute that got better and then match it to the listed attributes. "Sales gets better, but where do I see that on the matrix?"

Fig 2: Contradiction matrix (truncated)
When no one answered, Henrietta reviewed the items on the list one by one. As she reached attribute No. 26, Quantity of substance/the matter, a light seemed to go on for Kevin. "That's it; quantity of stuff gets better," he said.
Pleased, Henrietta encouraged the council members to think of what gets worse. Again, it was Kevin, thinking out loud, who said, "There is harm caused by creating the new e-commerce system. Could that be interpreted as system creates harm, and could I extend that to include attribute No. 31, Object generated harmful effects?"
Henrietta said Kevin was right. The rest was relatively easy. The matrix listed four possible principles that had been used successfully to find solutions to similar contradictions in the past:
• Principle No. 3: Local quality (make each part of an object fulfill a different and useful function)
• Principle No. 35: Parameter changes (degree of flexibility)
• Principle No. 40: Composite (multiple) materials and systems
• Principle No. 39: Inert atmosphere
Although these seemed obvious to Henrietta, the executive council obviously needed help interpreting how it related to Kevin's issue:
• Principle No. 3 clearly suggested local specialization; this is where territorial knowledge of distributors came in.
• Principle No. 35 suggested that new parameters to deal with customer empowerment (e.g., how much help to provide, how to speed up any Q&A, how to address interface issues) would need to be considered.
• Principle No. 40 suggested using multiple materials. This could be interpreted as multilayering (e.g., website, sales process). In other words, enable customers to help themselves while at the same time maintaining the capability to provide assistance to those who needed help, similar to grocery stores with self-service checkout lanes.
• Principle No. 39 didn't really seem to apply in this case. They could, of course, use their imagination, but now that he had guidelines on what to include for implementation, Kevin already had enough to keep him busy.
The first three options, of course, would have to be worked out in greater detail with Kevin's management team, but now he would be able to provide guidelines and direction for his team. Applying these principles would allow him not only to enter e-commerce and expand his company's markets, but also provide tools to distributors for increasing their own sales.
Once again, the meeting adjourned on a high note.
About The Author

Akhilesh Gulati
Akhilesh Gulati has 25 years of experience in operational excellence, process redesign, lean, Six Sigma, strategic planning, and TRIZ (structured innovation) training and consulting in a variety of industries. Gulati is the Principal consultant at PIVOT Management Consultants and the CEO of the analytics firm Pivot Adapt Inc. in S. California. Akhilesh holds an MS from the University of Michigan, Ann Arbor, and MBA from UCLA, is a Six Sigma Master Black Belt and a Balanced Scorecard Professional.