This Week in Quality Digest Live
William A. Levinson
Quality Insider
Eliminate Muda from Aircraft Boarding
Often it takes common sense, not the theory of constraints, to stop waste
Published: Thursday, January 24, 2013 - 15:49
It is a basic principle that muda (waste) often hides in plain view, and it persists because people become used to living with it or working around it. Bricklaying, one of the world's oldest trades, is a classic example.
Frank Gilbreth, a pioneer of motion study, developed a nonstooping scaffold, which increased productivity from 125 to 350 bricks per hour by eliminating the need for the workers to bend over to pick up each brick. In retrospect (and "in retrospect" is indeed the key phrase), the waste inherent in lowering and raising most of one's body weight for every 5-lb. brick should have been obvious. The waste persisted for centuries, though, because people had always done the job that way, and the job eventually got done.
Similarly, it should also be obvious that a buffet table can serve twice as many people if there is room on both sides, but I have seen plenty of restaurants that put one side of the table against a wall.
Airline boarding practices are yet another example of waste that hides in plain view. The airline always did it that way in the past, and the job eventually got done. The latter observation illustrates another important concept: Inefficiency is, unlike poor quality, asymptomatic. There is no scrap, rework, or customer complaint to initiate a closed-loop corrective action process.
United Airlines recognized long ago that airplanes do not earn money when they sit on the ground, and it sent maintenance crews to a NASCAR school for racing pit crews to learn how to save time. "Our airplanes don't earn money while they're sitting on the ground," said Larry DeShon, senior vice president of airport operations for United. "They need to be in the air. So, if we can shave even four or five minutes off of every aircraft turn, we can fly well over a hundred more flights a day."
My recent airline travel experience, however, exposed considerable muda in plain view: departure delay caused by boarding airplanes from the front instead of the rear. The situation could be construed as an application of Goldratt's theory of constraints, and also the critical path method of project management.
Suppose the aircraft has seven boarding zones, with zone No. 1 at the front of the plane. If boarding begins in zone No. 1, and passengers store their belongings before taking their seats, they block the aisle and the boarding of passengers to the subsequent zones. Zone No. 1 is therefore a constraint or, in critical path method terminology, a prerequisite activity that must be completed before the next can begin.
Project managers are quite familiar with the virtues of a parallel rather than a series structure for activities. If boarding begins in zone No. 7, it's necessary to provide only enough time for the passengers to get to their seats, as opposed to the additional time they need to stow their luggage. Using this boarding method, people are able to store luggage and take their seats at the same time (in parallel) throughout the plane. While an improvement, a live test with a Boeing 757 showed that this procedure reduces muda by only about 10 percent.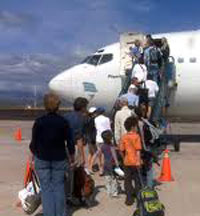 Boarding passengers with window seats first (a procedure called the Wilma method) is more efficient even than boarding from the rear. Astrophysicist John Steffen refined this approach by not only boarding passengers from the rear, beginning with window seats first, but also by alternate rows (12, 10, 8, and so on, followed by 11, 9, 7, and so on). This keeps passengers from getting into each other's way while they stow luggage in overhead bins. A live test of this approach, known as the Steffen method, required 3:36 min. to board a Boeing 757. Block boarding (front to back) the 757 required 6:54 min. The Steffen method reduced muda by almost 48 percent.
A video of the Steffen method in action, which includes a brief comparison to traditional front-to-back boarding, underscores the virtues of making videos of any job activity. Waste often hides in plain view because people become used to it, and they therefore take it for granted. The video makes the waste obvious, and creates an incentive to do something about it. It is then possible to compare the effectiveness of the new method to that of the old one, and cause the organization to wonder why it ever chose to live with the previous method.
Waste is all around us. We only need to open our eyes to it and recognize that just because "that's the way it's always been done" doesn't make it right. Maybe by the time Boeing comes out with the next superliner, airlines will have figured out there is a better way to board a plane.
About The Author

William A. Levinson
William A. Levinson, P.E., FASQ, CQE, CMQOE is the principal of Levinson Productivity Systems P.C. and the author of the book The Expanded and Annotated My Life and Work: Henry Ford's Universal Code for World-Class Success.