Featured Video
This Week in Quality Digest Live
Greg Hutchins
Six Sigma
Toyota—Connecting the Dots
And still not getting the whole picture
Published: Wednesday, March 17, 2010 - 06:06
Toyota is in the news daily for its safety-related recalls. It's sad… no, tragic. How could a company's quality reputation be diluted so quickly? The pundits are saying that it will take many years to regain its lost quality reputation.
For Toyota, its reputation was its most important asset—not its property, plants, and equipment; not its Toyota Production System (lean management); not its quality tools nor its just-in-time processes. Toyota's most important asset was its goodwill or brand equity. This is now history.
What happened? 
Toyota invented the Toyota Production System (TPS), which incubated the lean industry, including just-in-time, quality processes, and countless improvement tools such as kanban. Toyota epitomized quality, not only in the auto industry, but globally. But something tragic happened.
According to news sources, Toyota wanted to overtake General Motors Co. to be the No. 1 auto manufacturer in the world. The New York Times reported:
"In his testimony to the House oversight committee on Feb. 24th, Mr. Toyoda acknowledged that in its pursuit of growth his firm stretched its lean philosophy close to the breaking point and in so doing became 'confused' about some of the principles that first made it great: its focus on putting customer satisfaction above all else, and its ability 'to stop, think, and make improvements.'"

This is a nice way to say that Toyota, on its way to the top, forgot its lean heritage and Six Sigma roots.
What happened? Hubris? It's desire to overtake GM to be the world's No. 1 auto manufacturer? Unscalable and unstable supplier processes? Who really knows? Perhaps a string of seemingly unrelated issues and events. What we do know is this shouldn't have happened.
Connecting the dots
My read of what could have caused Toyota's quality debacle is that the company didn't connect the dots of seemingly unrelated issues and events up to the enterprise level. Toyota executive management viewed the issues as technical, quality, tactical issues that they felt had parochial fixes. 
Toyota has world-class quality tools and lean production processes. The acceleration challenges ostensibly occurred with second-tier suppliers. Toyota, as most original equipment manufacturers, manage and surveil their first-tier suppliers and rely on the due diligence of the first-tier to manage the second-tier to the same level that Toyota might. That obviously wasn't the case.
One of the problems I've seen in the quality profession throughout the last dozen years is that quality has moved from a total quality management enterprise model to a fixation on project problem solving tools such as Six Sigma, where solutions are usually low-level tactical, transactional, service, or product fixes. Then, lean management exploded because it had a higher level, process focus. But, the problem with Six Sigma and lean methodologies is that they don't have an enterprise governance, risk, and compliance focus. I believe these tools would not have revealed and mitigated Toyota's problems by discovering and connecting the dots.
How about a visual metaphor? If you stare at the knothole in a twig of a tree for a long time, you sooner or later forget about the branch, limb, trunk, tree, and forest. This may be what happened at Toyota.
What Toyota needed was an enterprise look and solution to the issue of public safety. Toyota seemed to treat the unexpected vehicle acceleration as a product nonconformance issue, the recalls as a cost issue, the vehicle electronics as isolated anomalies, and second-tier supplier management as a first-tier supplier issue.
Toyota seemed to view technical quality problems as anomalous and fixable, not systemic, chronic, and material. Toyota didn't appreciate the importance of enterprise governance and risk issues, such as public safety due diligence, transparency, and disclosure.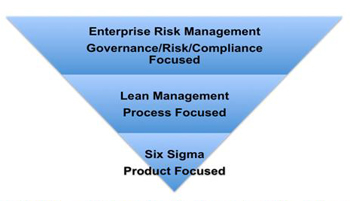 With perfect hindsight, the issues seem to point to a systemic inability to connect interrelated dots, most importantly at the strategic levels of governance and public safety. This is depicted in the inverted triangle in the above figure. Enterprise risk management has a governance, risk, and compliance focus, and integrates process tools (lean management) and product tools (Six Sigma).
So, do Toyota's problems have any bearing on your career as a quality professional? Twenty years ago, we espoused that quality is everyone's job. Great! Now that everyone is responsible for quality, what is our role? We've been great at the lower two levels of the above figure, but we've missed the highest level. With the quality emphasis on Six Sigma, we self-relegated ourselves to the tools level. In much the same way, I think that Toyoda distilled it; Toyota became confused about some of the principles that first made it great.
For the quality professional, as with Toyota, it's time to get our focus back on the entire system, and apply our tools and skills from the top down. It's time for us stop being so focused on the knot holes and losing sight of the forest.
About The Author