This Week in Quality Digest Live
Bill Hathaway
Quality Insider
Applying Process Improvement to Training
How blended learning uses lean techniques to foster engagement
Published: Friday, October 5, 2012 - 11:27
Within a process improvement or quality program, training activities are critical to building organizational capability and typically represent the highest expense category. And yet the training process often receives little formal scrutiny. Perhaps it would be appropriate to focus process improvement methods on the process of process improvement—to sample our own cooking.
Are there better ways to train process improvement professionals than the standard lecture-based classroom instruction model? Could effectiveness be improved and costs reduced? Could flexibility, responsiveness, and scalability of the training model be increased? A large body of evidence now suggests that blended learning models offer significant improvement along several dimensions when compared to traditional classroom training.
Blended learning
Blended learning is generally defined as an instructional model that delivers knowledge through a mix of instructional methods and media. For practical purposes, this usually entails a combination of online and live instructional content and activities. These components may include structured e-learning, classroom practice sessions and workshops, simulations, study halls, teach-backs, live and recorded webinars, reference texts, coaching, and online or live testing. Advanced blended learning designs include multiple learning activities that are structured to support alternate learning styles while making the greatest possible use of appropriate technology.
As a teaching method, blended learning has now been globally adopted by universities, K–12 school systems, and large training organizations in Fortune 500 businesses. Educational associations such as the Sloan Consortium in Chicago and the Donnell-Kay Foundation in Denver hold annual meetings to help teachers, administrators, and the for-profit community understand the latest technologies and trends so that they can optimize their "blends."
Within the operational excellence world, we see blended learning in use by top deployments such as Hertz Corp., Bridgestone Americas, and Nationwide Mutual Insurance Co., top academic institutions like The Ohio State University, and professional associations like the American Society for Quality. Because blended learning encompasses a broad spectrum of live, online, and recorded content and activities, each organization must customize its blend to what works best for its employees or demographic.
The "flipped classroom"
Blended learning turns traditional learning on its head. Think back to your most recent classroom experience. You sat in a darkened room learning new ideas and concepts via PowerPoint. Your instructor spent hours of her time transferring her extensive knowledge to you through "face-to-face" teaching. At times you may have been distracted by work or unable to absorb the finer points due to brain saturation. You met other students but didn't have much time to interact. When class was over, you staggered out with a load of homework to help you practice what you just learned.
In a blended model, you learn the basic lessons prior to the live classroom through interactive e-learning that engages and informs. You connect to fellow students through forums, phone, and email. When you finally arrive in the classroom, you already know the basic concepts, so instead you practice them via simulations and group exercises with other students. The instructor's time is now dedicated to value-add coaching and providing one-on-one time with individual students. The classroom has effectively been "flipped," making better use of the instructor's expertise and everyone's time.
What does a blended model look like for quality initiatives?
Let's consider just one example: Master Black Belt training. The Ohio State University offers a blended learning model for advanced process improvement training that combines two weeks of online study with two weeks of campus-based study. Students can start the e-learning at any time, take the classes in any order, and are assigned a coach to guide them through the program. Students are loosely collected into waves but are allowed to attend whichever sessions they need on their own schedule.
Each training method covers different topics that are more appropriate for each teaching method. For the on-demand portion, students tackle skills that require more traditional study, such as advanced statistics, design for Six Sigma, project management, and ideation. The campus weeks are dedicated to subjects that require expert instruction and class interaction, such as leadership skills, finance, simulation, and advanced lean. The figure below shows the process map for the blended training, with the simultaneous swim lanes.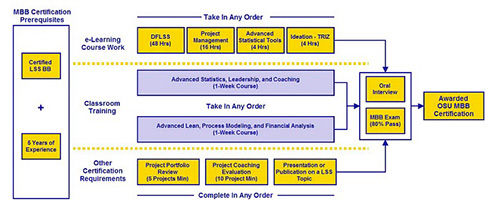 Why it's effective for professionals and deployments
Research is still being done, but early studies have shown that blended learning is effective. A systematic study performed by the U.S. Department of Education in 2009 ("Evaluation of Evidence-Based Practices in Online Learning") found that student outcomes in blended classes outperformed e-learning and face-to-face classes alone.
Students greatly benefit from blended learning because it confers some control over the pace, timing, and pathways of the coursework. Without a hard start to a class, students are not forced to enroll by a specific date, and experience fewer interruptions to their work activities. Distractions such as phone calls, emergency emails, or rescheduled meeting have no effect on the online portion of the course because students can schedule their studies in the natural downtime that occurs in their day.
Process improvement programs that MoreSteam works with have reported these benefits:
• 50 percent or greater reduction in travel expenses
• A 22 percent increase in knowledge transfer
• Responsiveness to provide training "on demand"
• Flexibility to reach students in far-flung locations
• Scalability to teach single students or large groups
These benefits and others are discussed in detail in The Blended Learning Playbook (MoreSteam, 2009).
The future of blended learning
Instructional designers are generally tasked with converting from a completely classroom-based model to a blended one, and as technology advances and interconnectivity improves, their options grow as well. We have progressed from the simple, first-generation tools like PowerPoint-based e-learning, through the second generation of practice-oriented e-learning and structured events to a third generation of blended learning.
More than just e‐learning and classroom time, this new learning style is designed to take advantage of the latest technologies, including innovative project simulations, collaborative activities, self‐directed study, and structured Master Black Belt (MBB) interventions. Blended learning frees experienced belts to focus on live coaching and mentoring, and prioritizes project completion. More than a glorification of technology, it takes engagement to a new level, bringing a tighter alignment of projects and training, and educating students in immersive ways that help them to better retain and apply the tools and skills of quality.
Process improvement professionals should be more interested than anyone in applying process improvement tools to improve training. Now there are lots of examples to learn from. After all, it's sort of inconsistent to use a batch method to teach lean, isn't it?
For more information on team training, check out Quality Digest's Knowledge Guide, "Eight Steps to Team Problem Solving."
About The Author

Bill Hathaway
Bill Hathaway is the president, CEO, and founder of MoreSteam.com, which was launched in February 2000 as an internet-based process improvement learning portal. Hathaway has overseen the creation of a full suite of online lean Six Sigma learning products at MoreSteam, including the first-ever commercially offered Black Belt, Green Belt, and Yellow Belt web-based courses. Throughout the last several years, Hathaway has publically championed the establishment of a more rigorous certification standard for Black Belts and Green Belts and worked to educate the lean Six Sigma community about the benefits of the blended learning training.