Featured Video
This Week in Quality Digest Live
ASTM International
Operations
New ASTM Standard Will Boost Sustainable Manufacturing
E3012 furthers measurement science to quantify manufacturing practices
Published: Wednesday, August 10, 2016 - 09:41
(ASTM: West Conshohocken, PA) -- A new ASTM standard, E3012—"Guide for characterizing environmental aspects of manufacturing process," will help manufacturers incorporate more sustainable practices into production. The standard, developed by ASTM International Committee E60 on Sustainability, will ultimately help companies reduce costs, improve quality, incorporate best practices, and more.
ASTM member Kevin Lyons, group leader at the National Institute of Standards and Technology, notes that the E3012 provides structure and formalism to ensure consistency in characterizing sustainable manufacturing processes. From there, computers can provide information and analytics about production and performance.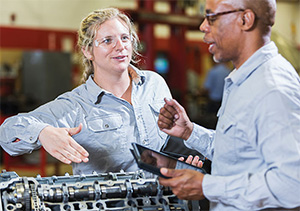 Lyons explains that using the standard will help businesses transition into science-based modeling, decision-making, and production.
"This standard furthers measurement science to quantify manufacturing practices to benefit industrial competitiveness," says Lyons. "Benefits for using the standard will include reduced operational costs, improved prediction of product costs, improved scheduling, enhanced manufacturing resources, improved quality control, and incorporation of best practices."
Manufacturers, as well as software suppliers that provide analysis and modeling solutions, will be the primary users of the new standard. The subcommittee that developed E3012 encourages manufacturers, especially small and medium-sized businesses (SMEs), to demonstrate and report on their use of the standard, with the goal of ensuring high-quality revisions in the future.
To purchase standards, visit www.astm.org and search by the standard designation, or contact ASTM customer relations (tel. +1.877.909.2786, email sales@astm.org). ASTM welcomes participation in the development of its standards. Become a member at www.astm.org/JOIN.
For technical information, contact Kevin Lyons, National Institute of Standards and Technology (tel. +1.301.975.6550), or ASTM staff member Stephen Mawn (tel. +1.610.832.9726).
About The Author

ASTM International
ASTM International, formerly known as the American Society for Testing and Materials (ASTM), is a globally recognized leader in the development and delivery of international voluntary consensus standards. Today, some 12,000 ASTM standards are used around the world to improve product quality, enhance safety, facilitate market access and trade, and build consumer confidence within R&D, product testing, quality systems, and commercial transactions. ASTM International meets the World Trade Organization principles for the development of international standards: coherence, consensus, development dimension, effectiveness, impartiality, openness, relevance, and transparency.