This Week in Quality Digest Live
VISIONx INC.
Metrology
VisionGauge Digital Optical Comparator Now Available in Vertical Configuration
Parts are mounted flat on the system's XY stage, optical axis is vertical
Published: Monday, January 10, 2011 - 13:29
(VISIONx:Pointe-Claire, Quebec) -- VISIONx INC., a developer of software and systems for automated visual inspection and high-accuracy measurement, now offers the VisionGauge Digital Optical Comparator in vertical configuration. In the vertical configuration, parts are mounted flat on the system's XY stage, and the optical axis is vertical (i.e., the lens is looking down on the parts). The most appropriate VisionGauge configuration for a given application—either horizontal or vertical—is typically dictated by fixture and mounting considerations. For example, early adopters of the vertical configuration of the VisionGauge include mobile and smart phone manufacturers because phones can be laid down flat on the vertical configuration's XY stage. Another application appropriate for the vertical VisionGauge is the inspection of craniomaxillofacial implants in the orthopedics industry, also difficult to fixture in a horizontal system. Standard XY travel for the vertical configuration is 12 in. × 12 in. Extended 24 in. × 24 in. travel is available as an option.
All of the standard options available for the VisionGauge's horizontal configuration are also available for the vertical configuration. These include: reflected illumination, laser module for Z-axis measurements, motorized rotary fixtures, and a fifth monitor for automatic recall of related documents such as work instructions, part prints, reports, and spreadsheets. The vertical VisionGauge is available with the same range of magnifications as the horizontal VisionGauge: 5X, 10X, 20X, 50X, and 100X, in either single or multimag configurations.
The VisionGauge Digital Optical Comparator is the fastest, easiest, and most accurate way to compare a part to a computer-aided design (CAD) file. The VisionGauge is distributed throughout North America by Methods Machine Tools Inc. based in Sudbury, Massachusetts. Methods Machine Tools Inc. has been a leading supplier of precision machine tools, automation, and machine tool accessories for more than 50 years.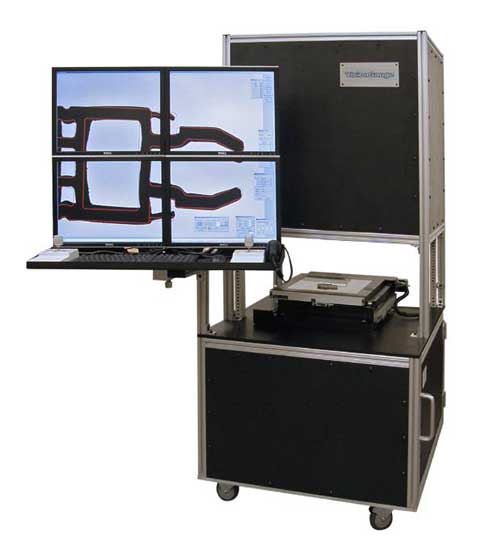 About The Author

VISIONx INC.
VISIONx INC. specializes in automated imaging, visual inspection, and high-accuracy measurement solutions. VISIONx develops, sells, and supports software, systems, and specialized hardware components for machine vision, image analysis, visual inspection, general defect detection, and metrology. Its products solve a broad range of applications in industries including electronics, semiconductors, micro-electromechanical systems (MEMS) manufacturing, printed circuit boards, aeronautics, aerospace and automotive, medical device manufacturing, precision mechanical components and assemblies, packaging, pharmaceutical and many more.