This Week in Quality Digest Live
Morehouse Instrument Co.
Metrology
Morehouse Instrument Offers New Digital Force Gauges
Retrofit options also available for analog-type gauges
Published: Wednesday, July 26, 2017 - 11:00
(Morehouse: York, PA) -- Morehouse Instrument Co. has introduced new types of digital force gauges. These digital gauges offer improved performance and accuracy specifications. Compared to a typical analog ring force gauge with 0.5 percent of full-scale accuracy, these new gauges are two times more accurate at 0.25 percent.
Repeatability, resolution, and reproducibility are also significantly improved. The new Morehouse digital force gauge displays direct-force values and does not need an interpolation table. It offers several features, including a max-hold button. It records peak and valley forces, and is programmed using 11–12 data points taken from Morehouse-accredited deadweight calibrations accurate to 0.002 percent of applied force.
Additionally, the gauge features the new TIR function when the gauge displays the difference between maximum and minimum forces, while recording the maximum and minimum values in memory. This function can be of major assistance in varying force applications.
"It has taken a bit of time to find the right solution to bring Morehouse force gauges into the forefront of measurement, and we are happy to offer this new gauge and be able to retrofit all existing analog-type gauges currently in use," says Henry Zumbrun, Morehouse's president.
Morehouse Instrument Co. is internationally known for 90+ years of calibration integrity, designing, manufacturing, and selling test equipment and systems for force and torque calibration for a broad range of industries.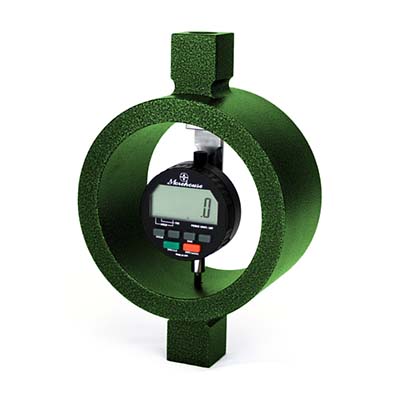 About The Author

Morehouse Instrument Co.
Morehouse Instrument Co. is privately-owned and has been providing calibration measurement integrity since 1925. The company is a primary reference laboratory for force and torque measurements. Morehouse primary standards have uncertainties that are typically 10–50 times better than accredited calibration service suppliers that use secondary standards. Morehouse also designs, manufactures, and sells test equipment and systems for force and torque calibration service applications in a broad range of industries.