This Week in Quality Digest Live
Marposs
Metrology
Marposs Radio Transmission Scanning Probe for On-Machine Part Measurement
Parts can be checked for defects without being transferred to a measurement lab
Published: Monday, October 8, 2018 - 12:00
(Marposs: Auburn Hills, MI) -- Marposs announces the availability of its WRSP60 high-accuracy scanning probes for checking part profiles directly on machining centers and milling machines in real time. Parts can be checked for defects without being transferred to a measurement lab, eliminating the need to reload and reposition the part for any necessary reworking, improving the process and optimizing cycle time.
The WRSP60 probes can be used to check the quality of the part profile, compensate for part misalignment, perform surface deformation checks that provide compensation information for the cutting program, perform comparisons with the master, check the run out, and enable the "touch" necessary for positioning the part; operations that are impossible with touch probes or that would result in greatly increased cycle times.
The system transmits the data via radio to a WRI receiver using a communication protocol that offers excellent immunity to interference and reduced power consumption. The data are collected, analyzed, and displayed by a proprietary Marposs' software package. The WRSP60 also features a multichannel system that enables the same receiver to manage up to 12 systems sequentially, including Marposs WRS part-contact probes.
These scanning probes have a transmission range of 15 meters, making them well-suited for large machines. They provide measurement performance on 3D surfaces with unidirectional repeatability within 0,4 µm and a better life of 80 hours continuous operation.
For more information on the WRSP60 probe, download a brochure.
The Mida Diamond family
The WRSP60 is part of the Mida Diamond line of high-precision, machine-tool touch probes and tool setters designed to control every step of the production process. Advantages of the Mida Diamond probing line include reduced machining and checking times, increased production efficiency, reduced production rejects, and constant machining quality level during the entire production process.
Complete information about the high-precision Mida Diamond probing line can be found at www.marposs.com, or by contacting Marposs Corp. at (888) 627-7677, or by email to marposs@us.marposs.com.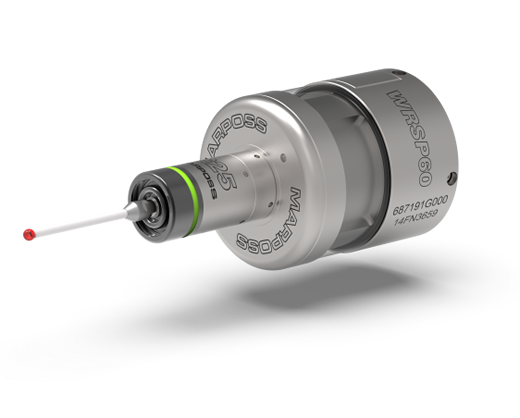 About The Author

Marposs
Marposs supplies precision gauging equipment to industries worldwide for measuring to the thousandth of a millimeter in the workshop environment, production lines, and on board machine tools. Main customers are machine tool manufacturers, automotive and their subcontractors, aerospace, bearings, glass, electrical motors, appliances, consumer durables industries, and gauge and fixture makers. Marposs supplies individual gauging components, turnkey machines, or fully automated lines. Headquartered in Bentivoglio, Italy, Marposs' U.S. office is in Auburn Hills, Michigan.