This Week in Quality Digest Live
Dynamic Metrology Solutions
Metrology
Metrology Annotation Pro for Manufacturing Facilities, Large and Small
Add notes to annotation drawings in the form of text, sound, or video
Published: Wednesday, October 5, 2016 - 11:20
(Dynamic Metrology Solutions: Duncan, SC) -- MAP stands for Metrology Annotation Pro, a software tool for rapid "ballooning" of drawings for manufacturing that can save substantial time over manual ballooning or other methods of annotating drawings. MAP opens most 2D drawing files, including Adobe PDF format to be annotated or ballooned.
After the drawing has been opened, the user can add ballooning by simply clicking the location that the balloon needs to go. A balloon is added ready for the next balloon. Once created, balloons can be moved, grouped, and aligned, have their appearance modified and even have notes added in the form of text, sound, or video. The addition of notes to individual balloons adds a new realm to simple drawing annotation. Now users can display a video instructing metrologists on how to measure a given dimension. All of these tools take far less time to implement than many other methods.
"Of course, there's more than just simple drawing markup," says Vince Clements, lead developer of MAP and vice president of Dynamic Metrology Solutions. "MAP allows the saving of work as a MAP file, which allows the user to start ballooning a print, save it as a MAP file, and open that file later with the markers (or balloons) fully live and interactive as though the document was never closed.
"Additionally, projects can be created that then include the ability to use OCR [optical character recognition] on individual characteristics and apply tolerancing. This can then be added to a spreadsheet for, say, a PPAP [production part approval process] or FAI [first article inspection]. A great deal of effort has been put into MAP's flexibility, which makes it easier to use."
Note: MAP has a proprietary spreadsheet editor that is directly compatible with Excel and Open Office. It doesn't require that Excel, Microsoft Office, or Apache Open Office to even be installed.
MAP differs from other drawing annotation products most drastically in the price. Even with all MAP's capabilities, it's priced well under $1,000.
"The actual price is $600," says Robert Howard, president of Dynamic Metrology Solutions. "We keep the price low so smaller shops can afford the same solutions as larger entities. Both a small mom-and-pop machine shop and a large global corporation need to inspect parts and provide the appropriate measurement data and measurement location information to their customers. So why should that same software be priced out of reach of the smaller shops? We have priced MAP not to be an elitist software, but to be within the budgets of just about all manufacturing facilities. This means that the smaller shops that really need to cut costs where possible can now do just that by leveraging the speed, ease of use, and affordability of MAP."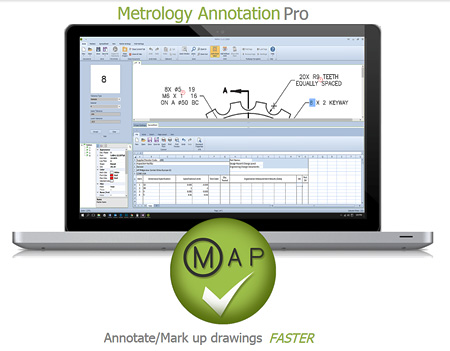 About The Author

Dynamic Metrology Solutions
Dynamic Metrology Solutions (DMS) was started in South Carolina by two guys who were tired of over-priced, over-complex, and under-performing software aimed at the metrology world. More than 45 years of combined experiences revealed one continuously re-occurring theme—some of the software geared toward the metrology world can be insanely expensive, poor performing, bug ridden, unstable, and unusable. Being metrologists, software geeks and developers, it made perfect sense to start fixing what they didn't like. "Software should work for you; you should not work for the software."