Featured Video
This Week in Quality Digest Live
Renishaw
Metrology
ATOM Diagnostic Kit Monitors Remote Signals and System Performance
Kit helps with challenging installations when the set-up LED can't be seen
Published: Monday, June 8, 2015 - 11:43
(Renishaw: Gloucestershire, UK) -- ATOM is Renishaw's noncontact optical linear and rotary incremental encoder system combines miniaturization with exceptional performance and reliability.
ATOM linear and rotary (angle) encoder systems feature integral set-up LEDs that are usually sufficient for installation purposes. Those customers with the most challenging set-up requirements are now supported by an optional PC diagnostic software package for use in conjunction with a diagnostic hardware kit. The software is particularly useful in situations where reliable visual assessment of the LED is difficult. ATOM's diagnostic software is available as a download and is simple to install and easy to use.
Renishaw's ATOM diagnostic hardware kit is supplied in a convenient carrying case to enable interface between any ATOM read-head variant and a standard USB port. The diagnostic kit includes a diagnostic dongle and associated hardware, connectors, and a USB cable. Once the ATOM read-head is connected to the diagnostic system, the customer can view the signal amplitude and confirm that the reference mark is correctly calibrated via a graphical interface, which also allows the user to remotely calibrate the system and toggle the AGC status. Alternatively, an audible tone can be output in cases where the visual display is obstructed during read-head adjustment.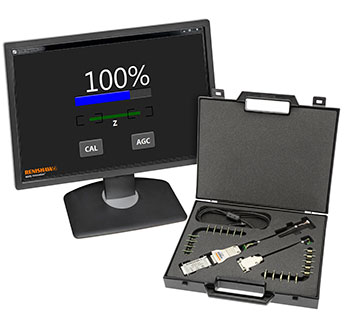 The ATOM systems unrivalled metrology provides class-leading accuracy with low subdivisional error, low jitter, high signal stability and long-term reliability. ATOM offers analogue speeds to 20 m/s (29,000 RPM on a 17-mm disc) and digital resolutions to 1 nm when used with Renishaw's interpolation electronics. A range of linear and rotary scales is available in stainless steel and glass.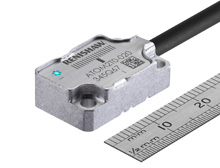 ATOM's ultra-compact read-head is used in laser scanning, precision micro-stages, medical applications, microscopy, DDR motors, scientific research, and the semiconductor sector.
Additionally, the FPC variant of ATOM measures just 6.8 mm × 12.7 mm × 20.5 mm and is ideally suited to a variety of space-critical motion control, inspection, and metrology applications. ATOM has CE approval and is manufactured by Renishaw, using strict quality controlled processes that are certified to ISO 9001:2008, and like all Renishaw encoders, is backed by a responsive global sales and support network.
About The Author

Renishaw
Renishaw is a global company with core skills in measurement, motion control, spectroscopy, and precision machining. Renishaw develops innovative products to advance operational performance—from improving manufacturing efficiencies and raising product quality, to maximizing research capabilities and improving the efficacy of medical procedures. Renishaw products are used in diverse applications including machine tool automation, coordinate measurement, Raman spectroscopy, machine calibration, position feedback, CAD/CAM dentistry, stereotactic neurosurgery, and medical diagnostics. Headquartered in Gloucestershire, United Kingdom, Renishaw's U.S. subsidiary is in Hoffman Estates, Illinois.