Featured Video
This Week in Quality Digest Live
Creaform Inc.
Metrology
New Functionalities for Creaform's VXmodel 3D Scan-to-CAD Software
Quickly generate print-ready files for rapid manufacturing processes
Published: Monday, May 18, 2015 - 14:21
(Creaform: Lévis, Québec) -- Creaform, a global leader in portable 3D measurement solutions and 3D engineering services and software, has released VXmodel, its 3D scan data post-treatment software module, fully integrated in VXelements 4.0. It provides the simplest and fastest path from scans to your computer-aided design (CAD) or additive manufacturing workflows.
New and practical functionalities included in the software release are: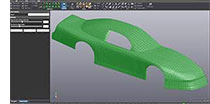 • Powerful auto-surface. Use VXmodel's tools to automatically generate NURBS that characterize freeform surfaces in a high-quality patch network. Thanks to the auto-surface function, the scan automatically converts to an IGES or STEP file.
• 3D mesh comparison. This is a new functionality that enables deviation measurements between two meshes or between a CAD model and a mesh. This easily validates your reference scan with the conformity of your reverse engineering.
• STL import. Users can benefit from a more flexible solution that enables the import of the standard STL file format.
Simple yet powerful, VXmodel also combines functionalities, such as alignment, geometrical entities and cross-sections, mesh improvement and mesh editing. It features all the necessary tools to help you modify the 3D scan mesh, allowing you to quickly generate print-ready files for rapid manufacturing processes.
Creaform also recently launched VXinspect, its new dimensional inspection software module. This latest addition completes VXelements' software platform and application suite with VXmodel for reverse engineering and VXinspect for quality control.
About The Author

Creaform Inc.
Creaform helps companies seamlessly create, simulate, verify, and collaborate in 3D, significantly enhancing their turnaround times and profitability. In addition to designing and selling its 3D laser scanners/systems, 3D digitizers, portable CMMs, dual camera sensors, and distributing other 3D measurement systems and software, Creaform offers design and engineering services, reverse engineering, finite element analysis, 3D and long-range scanning, inspection, training, and staff outsourcing.