This Week in Quality Digest Live
Hexagon Manufacturing Intelligence
Metrology
Hexagon Manufacturing Intelligence Unveils Addition to GLOBAL CMM Product Line at MFG4 2016
GLOBAL EVO delivers high-speed scanning performance, throughput, and productivity
Published: Wednesday, May 4, 2016 - 15:59
(Hexagon: North Kingstown, RI) -- Hexagon Manufacturing Intelligence has unveiled a new model of its versatile GLOBAL coordinate measuring machine (CMM) designed in collaboration with internationally renowned design house Pininfarina. This best-in-class machine is tailored specifically to offer process speed and efficiency to manufacturers requiring accurate tactile scanning and high throughput. The EVO will make its U.S. debut at the MFG4 trade show in Hexagon Booth No. 1321, May 3–5, 2016, in Hartford, Connecticut. The high-speed measurement system will also be shown at HxGN LIVE, Hexagon's International Conference, June 13–16, 2016, in Anaheim, California.
Built on the reliable foundation of the successful GLOBAL family, GLOBAL EVO features several new technologies to improve speed without compromising performance. Central to the design is Compass, a vibration-reduction technology that acts like a suspension system for the CMM. With Compass, the machine can effectively compensate for vibrations caused by its own movements, enabling higher-speed scanning with no loss of accuracy. Combined with the Scan Pilot firmware feature, which ensures robust and rapid measurements even when scanning complex unknown profiles, Compass gives GLOBAL EVO its outstanding scanning performance.
"GLOBAL EVO is all about saving time," says Ryan Toole, Bridge CMM product manager at Hexagon Manufacturing Intelligence North America. "The technologies inside are designed for speed, offering exceptional scanning performance and throughput to reduce measurement time. The CMM also includes the new Eco Mode power-saving function to reduce the overall cost of operation. With GLOBAL EVO, we have produced a CMM that supports manufacturers in their drive to increase productivity while maintaining quality."
GLOBAL EVO is also the first CMM to include Fly2 Mode, Hexagon Manufacturing Intelligence's trajectory-optimizing technology that generates the most efficient path between points. Fly2 Mode further optimizes probe movements, automatically calculating the most efficient route between measurement points, and generates the trajectory to minimize nonvalue-added motions. As a result, program execution times are considerably decreased, and maintenance and downtime is reduced by minimizing system stress.
GLOBAL EVO is available in three models: 09.12.08, 09.15.08, 09.20.08 from local Hexagon Manufacturing Intelligence sales staff and dealers.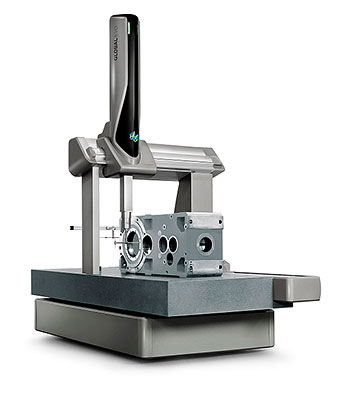 GLOBAL EVO coordinate measuring machine (CMM) from Hexagon Manufacturing Intelligence
About The Author

Hexagon Manufacturing Intelligence
Hexagon Manufacturing Intelligence helps industrial manufacturers develop the disruptive technologies of today and the life-changing products of tomorrow. As a leading metrology and manufacturing solution specialist, our expertise in sensing, thinking and acting – the collection, analysis and active use of measurement data – gives our customers the confidence to increase production speed and accelerate productivity while enhancing product quality.
Hexagon Manufacturing Intelligence is part of Hexagon, a leading global provider of information technologies that drive quality and productivity across geospatial and industrial enterprise applications.