Featured Video
This Week in Quality Digest Live
Hexagon Manufacturing Intelligence
Metrology
Hexagon Manufacturing Intelligence Releases TESA TWIN-T10
Portable display for inductive probes provides easy operation and graphical display of data
Published: Thursday, March 17, 2016 - 11:14
(Hexagon Manufacturing Intelligence: North Kingstown, RI) -- Hexagon Manufacturing Intelligence announced the release of the TESA TWIN-T10, a portable display for inductive probes that offers ease of operation for its users, as well as a clear and immediate graphical display of data. The TESA TWIN-T10 is particularly suitable for straightness, run-out, and form or geometry evaluation during fine adjustments, alignments, or the assembly of mechanical parts.
Due to its hemispherical form of the analog scale with 200 segments, the TESA TWIN-T10 allows for a clear analog and numeric reading of form variations. The new portable display also offers an exceptional operational time of more than 340 hours with standard AA batteries, so it can be used efficiently without the need to recharge frequently.
The TESA TWIN-T10 has been developed for the manufacturing shop floor. The instrument's high-quality elastomer overmolding with a soft-touch finish makes it wear-resistant and comfortable to hold. The TESA TWIN-T10 also features maximum IP63 protection against dust and other particles. The TESA TWIN-T10 is also suited for data transfer of measured values to a computer for further analysis.
"This display, which is typically used with a GT31 lever probe, is an innovation in its range. The TESA TWIN-T10 offers unique advantages for our clients with its clear readout that prevents misinterpretations, its extraordinary battery life, and the memory functions MIN, MAX, or MAX-MIN," says Blaise Vuille, director of sales and marketing at TESA.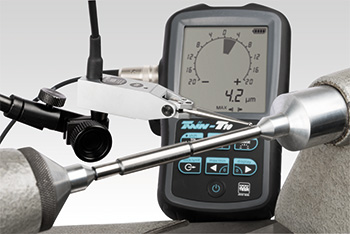 About The Author

Hexagon Manufacturing Intelligence
Hexagon Manufacturing Intelligence helps industrial manufacturers develop the disruptive technologies of today and the life-changing products of tomorrow. As a leading metrology and manufacturing solution specialist, our expertise in sensing, thinking and acting – the collection, analysis and active use of measurement data – gives our customers the confidence to increase production speed and accelerate productivity while enhancing product quality.
Hexagon Manufacturing Intelligence is part of Hexagon, a leading global provider of information technologies that drive quality and productivity across geospatial and industrial enterprise applications.