This Week in Quality Digest Live
PQ Systems
Metrology
Calibration Decision Making Improves With High-Level Overview Feature
GAGEpack's improved user experience streamlines the gauge management process
Published: Wednesday, March 2, 2016 - 00:00
(PQ Systems: Dayton, OH) -- A powerful dashboard feature that provides a high-level overview for managers, technicians, and auditors is the crown jewel in the newest release of GAGEpack from PQ Systems. Its improved user experience streamlines the gauge management process.
GAGEpack is a powerful gauge calibration solution that maintains complete histories of measurement devices, instruments, and gauges. To guarantee timely calibration, the software provides a variety of new tools, including the dashboard feature, archiving capability, and precise accounting for audit trails.
The dashboard feature offers immediate access to summary information about gauge inventory, historical events, and projected workload, improving efficiency and putting critical information at users' fingertips. "Just as an airline pilot can determine a plane's altitude and speed, the direction and velocity of the wind, fuel consumption, equipment condition, and terrain information by glancing at indicators, GAGEpack's dashboard offers immediate access to information relevant to assuring accuracy and efficiency in measurement equipment," says product manager Eric Gasper.
An archiving function in the newest release allows obsolete gauges to be segregated from active gauges, while retaining the associated data for reference and regulatory compliance. The auditing system offers a robust and precise accounting of all changes to gauges and events.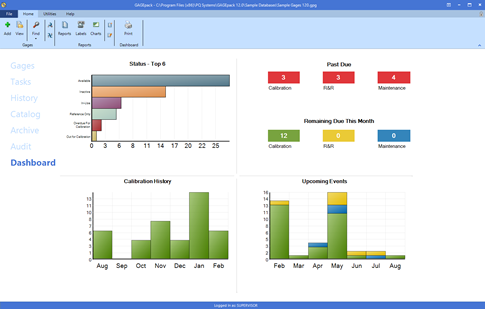 About The Author

PQ Systems
PQ Systems www.pqsystems.com is a privately-held company headquartered in Dayton, OH, with representation in Europe, Australia, Central and South America, Asia, and Africa and customers in more than 60 countries. For more than 30 years, the company has been helping businesses drive strategic quality outcomes by providing intuitive solutions to help manufacturers optimize process performance, improve product quality, and mitigate supply chain risk. The company's scalable solutions include SQCpack® for data analysis and statistical process control and GAGEpack® for system management. PQ Systems' world-class consulting, training, and support services ensure that clients receive the maximum return on their software implementations