This Week in Quality Digest Live
Fischer Technology
Metrology
Fischer Technology Opens Sales Office in Livonia, MI
For technical sales and service support
Published: Wednesday, February 3, 2016 - 16:41
(Fischer Technology: Windsor, CT) -- Fischer Technology, manufacturer of coating thickness, material testing, nanoindentation, and material analysis instrumentation, is expanding with a new office in Livonia, Michigan. This office will provide technical sales and service support for the Michigan area.
Jeff Stoner has been appointed as the field sales engineer for Michigan and brings a wealth of measurement experience to service Fischer Technology's business partners in the state. He possesses a strong metrology background with in-depth knowledge of contact and noncontact precision measurement methods, as well as in-process and post-process gauging. He has provided engineered solutions in diverse manufacturing environments, including automotive, aerospace, medical, plastics, electronics, and military. Stoner is available for sales, demonstrations, and technical support of the Fischer product line. In-house or onsite recertification and repair of Fischer handheld and benchtop instruments are available as well.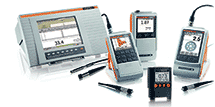 For more information contact Fischer Technology at (800) 243–8417, or info@fischer-technology.com.
About The Author

Fischer Technology
Fischer Technology Inc. has been developing and manufacturing measuring technology for coating thickness, materials analysis, microhardness, and material testing since 1953. It manufactures coating thickness measurement and materials testing instrumentation by incorporating X-ray fluorescence, beta-backscatter, magnetic induction, eddy current, and coulometric methods. Through its applications laboratory in Windsor, Connecticut, Fischer helps its customers determine which of its instruments will be the right fit for customers' application. Fischer develops all products for world markets in Germany and cooperates with universities and research institutes.