Featured Video
This Week in Quality Digest Live
Mahr Inc.
Metrology
Introducing MarSurf UD 130 'Entry-Level' Roughness and Contour Measuring System
Offers improved nanometer-range measurements and automatic probe-arm recognition
Published: Tuesday, February 2, 2016 - 17:27
(Mahr Federal: Providence, RI) -- Mahr Federal has introduced a new "entry-level" surface finish and contour measuring system that can generate both surface and contour measurements in a single pass. The MarSurf UD 130 replaces the MarSurf UD 120 and offers improved features, including nanometer range measurements, high measuring and positioning speeds, a biomimetic probe design with improved rigidity and higher dynamics, and automatic probe-arm recognition.
"We call the MarSurf UD 130 an 'entry-level' system because it's a more economical version of our high-end MarSurf LD 130," says Kevin Akin, product manager of Form and Surface Metrology at Mahr Federal. "It's designed for applications in industries such as automotive or bearings that require high resolution, but which may not have the very high tolerance requirements of some optical or aerospace applications."
With measuring speeds up to 5 mm/second, the UD 130 is not quite as fast as its LD 130 cousin, but is still faster than any competitive model. Likewise, its traveling length of 130 mm, Z-axis measuring range of up to 20 mm, and resolution of 2 nm exceed specifications for any competitor. The UD 130 utilizes an interferometric probe system that provides better technical data than the inductive probe systems of competitive systems. Probe movement is registered by photo diodes and evaluated electronically. This innovative measuring method allows the system to achieve a very high resolution over a large range.
Probe arms are built using a bridge-truss design, which ensures maximum rigidity, reduced vibration, and higher dynamics. Different probe-tip geometries are available for different measuring tasks. Diamond tips with 2 µm and 5 µm radii can be used for roughness measurements, and ruby balls or carbide tips with 25 µm radii for contour measurements.
The magnetic mounting system allows probes to be changed by hand in seconds, and provides protection in the event of system collision. A ball stop assembly ensures a repeatable probe mounting position, and an embedded electronic chip in the probe arm ensures reliable recognition. Plus, calibration data are saved, so probe changes don't require additional calibration.
The MarSurf UD 130 comes with Mahr's XCR 20 CNC software package for automatic measurement operation. Built on Mahr's modular MarWin platform, it provides extensive surface and contour measurement and evaluation capability, including functions such as line form evaluation, nominal/actual comparison, and the creation of auxiliary reference points. An intuitive, icon-based interface makes the software efficient and easy to use. Both the drive unit and measuring stand axes of the UD 130 can be controlled, either by joystick or automated measuring programs. In combination with additional linear and rotary axes integrated with MarWin, fully automated part measurement is easily performed.
Mahr Federal, a member of the Mahr Group, has been providing dimensional measurement solutions to fit customer application needs for more than 150 years. The company manufactures and markets a wide variety of dimensional metrology equipment, from simple and easy-to-use handheld gauges to technically advanced measurement systems for form, contour, surface finish and length. Mahr Federal is also well known as a producer of custom-designed gauges and a provider of calibration and contract measurement services. Mahr Federal's calibration laboratories are accredited to ISO/IEC 17025:2005 NVLAP Lab Code 200605-0 (see our Scope of Accreditation for accredited calibration processes). For more information, visit www.mahr.com.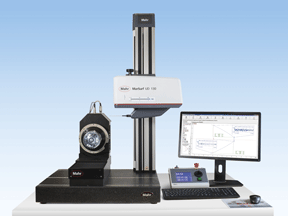 About The Author

Mahr Inc.
Mahr Inc. a member of the Mahr Group, manufactures and markets a complete range of dimensional measurement solutions from handheld and custom-made gauges to technically advanced measurement systems for form, contour, surface finish and length for the automotive, aerospace, medical products, electrical, plastics, and optical engineering industries. Mahr also provides calibration and contract measurement services. Mahr's calibration laboratories are accredited to ISO/IEC 17025:2005, NVLAP Lab Code 200605-0. Mahr Group is headquartered in Göttingen, Germany. Mahr Inc. is headquartered in Providence, Rhode Island.