This Week in Quality Digest Live
CRC Press
Lean
Process Implementation Through 5S
Laying the foundation for lean
Published: Monday, May 9, 2016 - 11:31
(CRC Press: Boca Raton, FL) — The procedure outlined in the book, Process Implementation Through 5S: Laying the Foundation for Lean, by Drew Willis (Productivity Press, 2016), shows how basic lean principles can be used to implement standardized work and visual controls through plan-do-check-adjust (PDCA) for process implementation.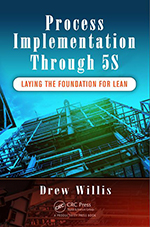 This process throughout the book is referred to as "Process Implementation," and it has been used in multiple types of production, including batching operations where products not only change on a daily basis, but there are also frequent same-day changeovers. This process provides order when sometimes all you can see is chaos.
Process Implementation begins with the standardize element of 5S (sort, set in order, shine, standardize, and sustain) by looking at the work processes, then standardizing and improving upon them using 5S principles, rather than implementing the first three 5S elements and then standardizing those three. Doing this also differs from the regular 5S in that the main focus of this process begins by looking at the steps of the work process, and then uses the other 5S elements to improve upon those standardized work steps.
By starting with the goal of standardization rather than 5S and engaging the employees in improvement opportunities, the implemented 5S will be much more effective and the process more efficient.
5S isn't the only focus of Process Implementation, but it's the 5S that drives how you implement the processes. Process Implementation through 5S increases efficiency, reduces cost, makes training new employees easier, sets up sustainable systems, and allows you to reach the foundation for operating by using lean principles.
About The Author

CRC Press
CRC Press, a division of Taylor & Francis Group, is a preeminent publisher in public administration and policy; medicine; life, pharmaceutical, food, environmental, and forensic sciences; engineering; business; technology; mathematics; and statistics. CRC Press provides immediate access to information through myriad electronic products. CRCnetBASE, its collection of online databases, provides a portal to an ever-growing supply of information. Productivity Press, a premier source of information and learning tools on organizational and continuous improvement, is part of CRC Press.