This Week in Quality Digest Live
Productivity Press
Health Care
Rethinking Lean in Healthcare
How a hospital restored quality patient care and obtained financial stability using lean
Published: Thursday, September 22, 2016 - 12:52
(Productivity Press: Boca Raton, FL)) -- Shingo award winner and bestselling author Tom Zidel's newest book, Rethinking Lean in Healthcare (Productivity Press, 2016) deals with hospitals' struggle to secure and maintain financial stability. In story form, Zidel tells how the leadership team of a fictional hospital adopts the tools and principles associated with the Toyota Production System (TPS), or lean methodology.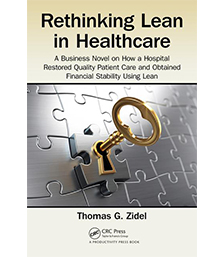 The story takes the reader through the team's eye-opening journey, beginning with their rejection of the methodology to their eventual acceptance of it, to successfully implementing it in the hospital.
This book is important because many of our nation's hospitals are besieged with financial difficulties with declining reimbursement, and the public is losing confidence in hospitals' ability to provide quality care without error. Lean can provide relief from these issues, but only if it is properly implemented.
About The Author

Productivity Press
Productivity Press is the premier source of authoritative information on organizational improvement. It has the largest catalog available anywhere of publications and learning tools about continuous improvement and lean methodologies. In 2007 Productivity Press became part of CRC Press, a division of the Taylor & Francis Group. This extended its reach globally and increased the line of quality publications now available to Productivity Press customers.