This Week in Quality Digest Live
Ford Motor Co.
Customer Care
Portable Climate and Road Simulators Help Ford Tame Squeaks and Rattles
One of eight mobile test units sent to Kentucky Truck Plant for preproduction testing
Published: Wednesday, March 16, 2016 - 17:08
(Ford Motor Co.: Dearborn, MI) -- Ford is using mobile climate and road simulators to minimize squeaks and rattles in its yet-to-be released 2017 F-Series Super Duty.
Rigorous testing with this equipment includes some of the most extreme conditions imaginable. The simulators are known as Transportable Environmental Four Posters, in reference to their 18-wheeler portability and four-point road simulators that sit under each wheel when a vehicle is in the chamber. Ford is the only automaker to use these mobile simulators.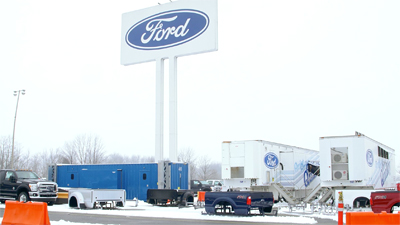 "Mobile climate and road simulators are absolutely key to finding unwanted noises in the early stages of vehicle development," says Craig Schmatz, Ford F-Series Super Duty chief engineer. "Extreme climates and terrains are especially known for bringing out squeaks and rattles. Identifying and mitigating these noises long before a vehicle goes into production is one more way Ford is working to deliver great vehicle quality."
Inside these mobile labs, Ford puts prototype vehicles through their paces on all manner of simulated terrain and road surfaces, as well as in extreme humidity and temperatures ranging from a bone-chilling 20 degrees below zero to a blistering 120 degrees Fahrenheit.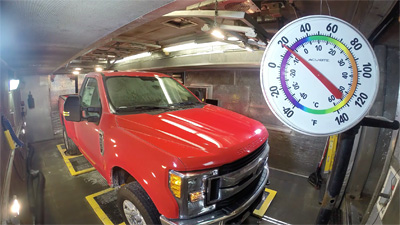 Thanks to the portability of these simulators, Ford can move them all over the world to test prototypes wherever and whenever a vehicle is undergoing development. To test the all-new Super Duty, Ford moved one of the simulators to Kentucky Truck Plant, which has produced more than five million Super Duty trucks since the vehicle was introduced in 1999.
Before the first Super Duty charges off the line, it will have logged more than 12 million cumulative miles of testing—more than any of its predecessors—to ensure the promise of "Built Ford Tough."
Controlled environment allows for comprehensive testing
These initially patented mobile climate and road simulators help Ford ensure quality in a way that's as unique as it is innovative. The ability to perform tests on-site at Ford facilities is immensely more efficient than sending a vehicle to another location and waiting for results. Prototypes undergo testing all the way to production, with the controlled environment allowing trained experts and advanced audio-sensing equipment to identify the causes of noise.
For each vehicle launch, climate and road simulation testing is overseen by a Ford launch engineer and a plant vehicle team engineer, who work to prevent squeaks and rattles; for the Super Duty, this was Abdul Mohammed and Dave Massengill, respectively. This testing is part of the company's focus on quiet quality—a motto boldly emblazoned on each of the eight simulators as a reminder.
"Ford takes its commitment to delivering quiet quality seriously—devoting a lot of resources to deploying the best people and tools," says Vy Tran, Ford North American launch supervisor for squeak and rattle testing. "Ford's approach to testing for squeaks and rattles, both for Super Duty and other vehicle launches, helps the company put customers behind the wheel of vehicles they can enjoy with their ears as much as their eyes and hands."
Ford worked with suppliers and other companies to develop the transportable environmental four posters, which have now been used for more than 100 global vehicle launches.
Aside from full-vehicle testing, Ford also performs component-level testing to help limit squeaks and rattles. For instance, the company subjects instrument panels to shake testing on custom stands called transportable instrument panel sound testing evaluation rigs.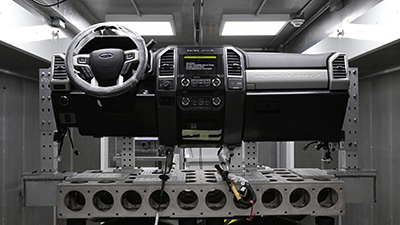 "Simulator technology has come a long way in helping to reduce noises in vehicles," says Timothy Wittrock, Ford North American current model supervisor for squeak and rattle testing. "Transportable environmental four-poster technology has been instrumental in reducing squeaks and rattles under various operating conditions to deliver a whisper-quiet driving experience for customers."
Mobile climate and road simulators are but one part of a large suite of tools Ford uses to create high-quality vehicles.
About The Author

Ford Motor Co.
Ford Motor Co. is a global automotive and mobility company based in Dearborn, Michigan. With about 201,000 employees and 62 plants worldwide, the company's core business includes designing, manufacturing, marketing and servicing a full line of Ford cars, trucks and SUVs, as well as Lincoln luxury vehicles. To expand its business model, Ford is aggressively pursuing emerging opportunities with investments in electrification, autonomy and mobility.