This Week in Quality Digest Live
Innovating Service With Chip Bell
Customer Care
Put a Surprise Inside: the Cracker Jack Principle
Foster a spirit that customers can't wait to narrate
Published: Tuesday, November 15, 2016 - 18:42
We bought a new house in a real nice neighborhood. The house was perfect except for one important feature—it came with a yard! I do not like yard work, and my wife does not like yard work. I travel all the time, and she works long hours.
One Saturday morning, I got a big idea. "Why don't we just concrete our front yard?" I thought. When my wife mentioned to a friend I was considering calling the concrete trucks, word spread, and a delegation of concerned neighbors showed up at our front door. It is clearly not a neighborhood with concrete front yards.
"Please, you have to hire Bill," they pleaded. "Bill does all our yards."
So Bill was summoned to our house late one afternoon for an "audition."
Bill arrived in an old pickup truck loaded with garden equipment. Dressed in faded jeans, a "gimme" T-shirt from Miracle Grow, and a sweat-stained cowboy hat, he leaped out of the front seat. Grabbing a stack of pale green index cards, he ran up the sidewalk to ring the doorbell. "These caladiums are getting too much water," he announced even before introducing himself at the front door.
Invited in, Bill removed his boots and hat, leaving both on the front steps. Once inside he confidently began his inquisition and completion of his index cards. His questions were as rapid fire as his gait: What time do you get home from work? Do you mind if your sidewalk is wet when you get home? Do you ever pick flowers from your yard to use inside? What do you folks do for fun on the weekend? When you go fishing, what do you like to catch? What's the best-looking yard in the neighborhood? Can I please have another glass of iced tea?
Bill was hired.
A month later Bill decided it was time to replace the annuals in our front yard from summer geraniums to winter pansies. It required removing, mulching, planting, and fertilizing. We came home late Thursday to find an immaculate yard. On the front door was one of Bill's signature green index cards with a note: "Go look on your back porch."
Racing to the backyard we found a large Styrofoam cup of earthworms in moist soil. On the cup Bill had penciled: "Hope you catch a big one this weekend."
"It is service that measures success."
—George Washington Carver
Service with surprise is like a box of Cracker Jack. It was not the cool box or the caramelized popcorn we craved—it was the free prize inside. While the prize had little economic value, it's emotional value was priceless. Surprise breaks the monotony of ho-hum, communicates a caring attitude, and fosters an infectious spirit that customers cannot wait to narrate to others.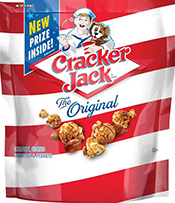 Some companies have the principle of including the Cracker Jack surprise down pat.
Zappos sent a bouquet of flowers to a loyal customer after the call center operator learned she had just had an emergency appendectomy. Miller Brothers Ltd., an upscale men's clothing store in Atlanta, has "sophisticated fun" as one of its hallmark values. And the proof? A colorful gumball machine sits on a small table in the store's entrance foyer. Beside it is a large bowl of bright shiny pennies. Guess where Junior goes while daddy is trying on trousers?
What can you do to apply the Cracker Jack Principle? Pretend the service that you deliver is like your customer's birthday. The best gifts are those that contain a delightful surprise. Put on your "little kid" creative hat and consider ways to make your service silly, funny, whimsical, or quaint. Better yet, ask a kid for ideas. Like Cracker Jack, position the surprise in a way that heightens the astonishment and amazement.
This is an excerpt from Chip Bell's book, The 9 1/2 Principles of Innovative Service (Simple Truths, 2013).
About The Author

Innovating Service With Chip Bell
Chip Bell has helped Fortune 100 companies dramatically enhance their bottom lines and marketplace reputation through innovative customer-centric strategies that address the needs of today's picky, fickle, and vocal customers. Bell is author of 22 books; seven are international best sellers. His latest book is Kaleidoscope: Delivering Innovative Service That Sparkles (Greenleaf Book Group Press, 2017). Global Gurus ranked Bell in 2014 the No. 1 keynote speaker in the world on customer service. The Chip Bell Group has helped clients become famous for the kind of service experiences that result in devoted customers, enhanced reputation, and significant growth.