This Week in Quality Digest Live
Ryan E. Day
Customer Care
Tier One Aerospace Supplier Sees Soaring Workflow Efficiencies
EnCore Composite Structures uses 3D measurement technology to please multinational clients
Published: Thursday, July 28, 2016 - 10:20
In today's hyper-competitive, fast-paced manufacturing world, there is rarely anything like a "routine" day at the office—especially when you're a tier-one supplier for some of the largest aerospace companies in the world. To make the grade and satisfy this kind of demanding customer base requires smarts, efficiency, hard work, and innovation. A little extra horsepower on the shop floor never hurts, either.
For that extra horsepower, EnCore Composite Structures of Brea, California, relies on the mobility, speed, ease-of-use, accuracy, and reliability of the FARO Edge ScanArm HD, a portable coordinate measurement machine (CMM) capable of both tactile probing and noncontact 3D scanning.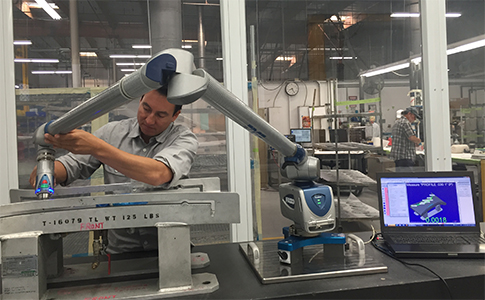 "Just the other day we were setting up for a run of an access cover for an airliner," says Cesar Maldonado, quality assurance specialist at EnCore. "There were two variants of the piece that would be run on the same machine, so I told the guys, 'Run them both, and then I'll QC them.' This was as opposed to running one variant, stopping to check it on a stationary CMM in another part of the building, running the other piece, and then stopping to check it, too.
"They ran them both, and I grabbed my FaroArm and went right out there on the floor," continues Maldonado. "I stuck the first part on the magnetic base, imported the 3D model to my laptop, set up the alignment in reference to the datums that the client called out, checked the first part, checked the second variant, and bam—done. Within an hour that machine was ready to run all night."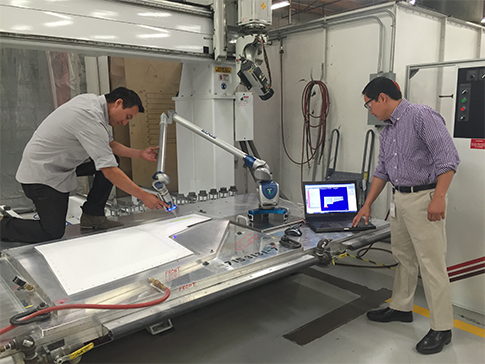 Easy to use, portable, and interfaces well with any software
It's clear from this one small example that the ease of use and portability offered by the FARO Edge ScanArm HD is key to successful workflow at EnCore. The FaroArm delivers on high quality and impressive throughput. Convenient accessories such as the magnetic base is a welcome touch as well.
In addition to the high-resolution data, scanning speed, and precise accuracy, the system's best-in-class optics allow seamless scanning across diverse surface materials, regardless of contrast, reflectivity, or part complexity. EnCore pairs the FaroArm with Verisurf 3D modeling software, and the result is industry-leading quality that was instrumental in landing major contracts with companies such as Boeing, Spirit, Bell, and Honeywell.
An important benefit of a setup like the one employed by EnCore is that many OEMs (Boeing being a good example) require a digital product definition (DPD) capability from any potential suppliers.
"We design and reverse-engineer tooling with the Faro Arm sometimes, and use it everyday for in-process and final quality control," says Mike Balbuena, division quality director of EnCore Composite Structure. "The software features are very important in meeting DPD requirements for Boeing and Spirit. Our FaroArm software allows us to look at the model and create inspection points from the model sent by customers. At EnCore, customer compliance is important; without it we just wouldn't be able to be in compliance with them."
User-friendly for cross-training
In addition to remaining in compliance with rigorous quality control protocols, tier one suppliers in the aerospace sector must understand and proactively manage risk within their workflow processes. For EnCore, part of that requirement means cross-training multiple operators to ensure adequate coverage of production and output under any circumstance. The user-friendly nature of FARO's equipment lends itself nicely to EnCore's dedication to cross-training workers within the company.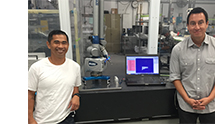 "If you know how to read a model, you know where to get your annotations," says Maldonado. "Once trainees see how it flows and how easy it can be, they gain confidence. "The more they use it, the more they love it. They become intrigued and want to learn more. That's fun, and it makes my job easier."
Naturally, repeatability of measurements within the quality control team is critical. Having multiple operators available is moot if changing operators affects the consistency of measurement results.
"We have to get as much as we can out of every piece of equipment we own, and that includes the FaroArm," says Balbuena. "We keep it pretty busy every day with four to five operators, and yet we don't see any variation in the measurements from one operator to the next. In terms of measurement system assessment, the FaroArm is very durable and yields consistent measurements time after time."
Part of the benefits of training and continual reinforcement of best practices is knowledge-sharing across the organization. EnCore uses FaroArms at multiple locations and regularly shares information between operators and managers at those locations.
"Our Mexico plant has one, and Huntington Beach has one, too," says Maldonado. "They call us or email when they have questions, and the people at FARO are always available to provide support when I'm not."
"EnCore Composite Structure is growing really fast with legacy and several new programs," explains Balbuena. "We continue to improve our process capability and speed in verifying dimensional inspection. The FaroArm allows us to be effective with just one arm, and gives us the flexibility to share the equipment with multiple inspection personnel at this facility. The system adds speed to our inspection process and provides better management of our quality control standards."
At the end of the day, being a successful tier one and tier two supplier means the same thing to EnCore that it does to any other organization. Customer satisfaction is the goal, and Encore strives to build a lasting relationship with its customers through zero defects.
"Boeing is happy, Honeywell is happy—you know, all our customers are pretty happy," says Maldonado.
As EnCore proves, when the right tools and processes are in place, exceptional quality and an efficient workflow are all in a day's work.
About The Author

Ryan E. Day
Ryan E. Day is a Quality Digest contributing editor and principal administrator of the company's content marketing program, which brings together those seeking business improvement solutions, and solution providers. Day has spent the last 7 years researching and interviewing top business leaders and continuous improvement experts including Sakor, Ford, Merchandize Liquidators, Olympus, 3D Systems, Hexagon Intertek, InfinityQS, Johnson Controls, FARO, and Eckel Industries. When not developing engaging and informative content, Day might be found polishing his html and css skills, or hanging out with his 20lb American Tabby cat.