Featured Video
This Week in Quality Digest Live
Brunson
CMSC
Brunson's EasyConnect for Laser Trackers, Articulating Arms, and Optical Tooling
Published: Wednesday, May 8, 2013 - 14:27
(Brunson: Kansas City, MO) -- Brunson Instrument Co. has launched the Brunson EasyConnect instrument mounting system, the newest addition to its line of instrument stand accessories.
Using the Brunson EasyConnect, a metrology technician can instantly connect and disconnect a laser tracker, theodolite, articulating arm, or optical instrument to or from a standard 3 1/2-in.–8 external threaded mount. The unique, quick-action locking lever eliminates the sometimes awkward spinning of an instrument to connect or remove it from a stand. Watch the product video below.
The EasyConnect mechanism locks metrology instruments firmly into place for maximum stability during use. Manufactured from stainless steel and anodized aluminum, the clamping system attaches to any instrument stand or other accessory having a 3 1/2-in.–8 external threaded mount. A plummet sight is included for use with certain optical instruments. The new product is available now for delivery and can be ordered by contacting sales@brunson.us.
"This new product is an important upgrade for any company using expensive high-precision metrology instrumentation," says Mark Meuret, product manager of metrology solutions. "Any operator who has performed the awkward task of rotating a costly, sensitive instrument onto a threaded mount will instantly recognize the value of EasyConnect. We listened to our customers and went to work on designing and manufacturing the Brunson EasyConnect with ease-of-use and superior handling in mind."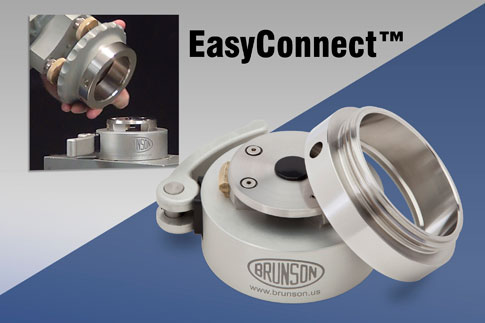 About The Author

Brunson
Brunson Instrument Co. develops, manufactures, and provides products, solutions, training, and services to deal with 3D measurement and alignment problems faced during the building, inspecting, and maintenance of large machines (e.g., aircraft, paper mills, satellites, ships, machine tools, particle accelerators, and automobiles). Brunson is also a private-label manufacturer for other metrology companies. Its headquarters and manufacturing facility are buried 80 feet below the surface of Kansas City, Missouri, the perfect place for a world-class precision manufacturing facility.