This Week in Quality Digest Live
API Services
CMSC
API Announces Latest Generation I-360 Handheld Scanning Device
Published: Thursday, August 21, 2014 - 14:25
(API: Rockville, MD) -- Automated Precision Inc. (API) has announced it has released the newest generation of its I-360 suite of handheld probing and scanning accessories to the Radian Laser Tracker.
All three models in the product family have been updated. New features include:
• The wireless probe-only I-Probe now offers a third port for attaching styli. This probe port is at the top of the instrument's sensor head, which offers accuracies greater than 3-thouandths of an inch (75μ).
• The scanning model, I-Scan II, features a new HD camera that can collect points across surfaces that are traditionally difficult for scanners to measure, such as highly reflective
or high-contrast black-and-white areas.
• The combination I-360 unit offers all the features provided in the I-Probe and I-Scan.
These new models immediately replace the current I-360 suite and are available at the same pricing.
Innovation driven by customers
Several of the improvements made to this generation of the I-360 were provided from customer feedback. API engineers took suggestions to improve not only the accuracy, but also make it more ergonomic, according to API product manager Zach Ryan.
"The additional probe tip on the I-Probe is not only more precise, it allows for better handling," Ryan said. "To accommodate it, we have added an additional button near the bottom of the unit. Now, users can hold the I-360 upside down and take measurements without twisting their wrist."
Lighter and easier to handle
Another improvement designed to make the I-Probe easier to use is its LED light panel, which allows users to see which probe port is active for taking measurements. This saves users from walking to their computer screen to check the probe settings in the software.
The I-360 weighs just 2.5lbs, making this generation the lightest ever. As with previous versions, the I-360 provides a full 360° yaw and 360° roll to achieve unlimited acceptance.
This maneuverability can be critical to getting accurate measurements of hidden angles or cavities where traditional measuring tools and trackers cannot easily reach. Its unique, proprietary sensor head does not require an external camera add-on, giving the system better accuracy that photogrammetry-based systems can achieve.
This latest generation of the I-360 comes as reverse engineering and hidden point inspection become increasingly critical manufacturing processes. As a solutions provider to the world's leading manufacturers in aerospace, automotive, wind energy, and steel construction, API's approach to product development is to be responsive, but also predictive, Ryan said. "API prizes its close customer relationships, and we see them as a great view into what metrology needs are today and where they'll be in the future," Ryan said. "We believe the I-360 confidently carries the Radian and the API company into that future."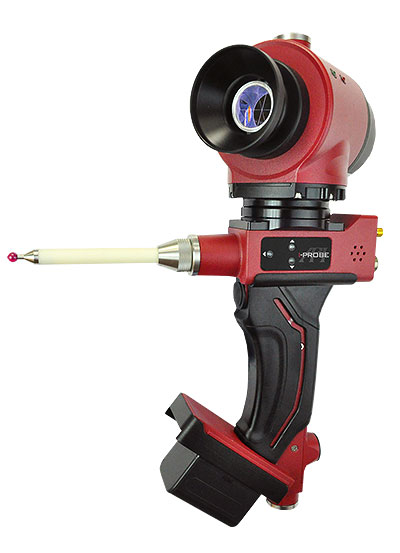 About The Author

API Services
API Services, a metrology and machine tool calibration service company, has been in business since 2008 and is headquartered in Newport News, Virginia. API Services offers machine tool calibration and repair, contract measurement services, tracker and software training, on-site laser tracker calibration and certification, 3-D laser scanning, customized maintenance and support services, and you can rent or be trained on API equipment. Visit www.apitechnical.com for more information.