Featured Video
This Week in Quality Digest Live
FARO
CMSC
FARO Releases Freestyle3D X Handheld 3D Laser Scanner
Published: Thursday, November 12, 2015 - 13:43
(FARO: Lake Mary, FL) -- FARO Technologies, a globally trusted source for 3D measurement technology, has released the FARO Freestyle3D X handheld laser scanner, a 3D laser scanner designed to transform the way the architecture, engineering, and construction (AEC); law enforcement; and other industries document 3D data through intuitive data acquisition. With the release of the Freestyle3D X, FARO's portfolio now contains two handheld scanners designed to help customers increase productivity, save time, and make effective, data-driven decisions.
​The Freestyle3D X incorporates state-of-the-art scanning technology that delivers enhanced scanning accuracy of 1 mm at a range of 1 m. The Freestyle3D X is available with a U.S. National Institute of Standards and Technology (NIST)-traceable calibration accessory to provide users with verifiable data accuracy, which is critical for forensic scanning and other applications within highly regulated industries. On-site calibration data are exportable in PDF format, allowing information to be easily shared with team members.
The Freestyle3D X also incorporates an automatic flash mode, enabling users to scan objects in a variety of lighting conditions. New software tools deliver a detailed visualization of the created 3D point cloud, and an integrated best-point filter enhances the quality of the scan data by reducing noise up to 35 percent. Post-processing functions have also been improved, offering up to five-times faster data-writing speed to further improve productivity on the job site.
The Freestyle3D X can be employed as a standalone device or used in concert with FARO Focus3D X Series laser scanners. Point cloud data from all devices can be integrated seamlessly—even in grey scale.
"The Freestyle3D X sets the industry standard for ease of use and verifiable accuracy among professional, portable scanning devices," says Joe Arezone, senior vice president and managing director of FARO Asia and EMEA. "The new features such as automatic flash mode, best point filter, and new algorithms decisively enhance the overall scanning experience and enable users to carry out more projects with better quality. Moreover, the Freestyle3D X will allow the most demanding users to achieve better accuracy in their projects."
With the introduction of the Freestyle3D X to its portfolio, FARO continues its role as a technology innovator for customers—helping them work faster and more effectively, and save money in the process. FARO is dedicated to offering a full range of innovative and user-friendly handheld scanners to allow customers to implement and leverage 3D scanning to their business advantage.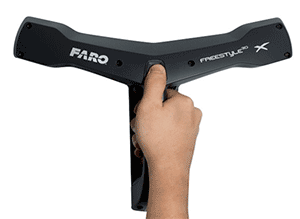 About The Author

FARO
FARO develops and markets computer-aided coordinate measurement and imaging devices and software. FARO's portable equipment permits high-precision 3-D measurement, imaging, and comparison of parts and compound structures within production and quality assurance processes. The devices are used for inspecting components and assemblies, production planning, 3-D documentation, as well as for investigation and reconstruction of accident sites or crime scenes, and to generate digital scans of historic sites. Principal products include the FaroArm, the FARO Laser Tracker ION, FARO Laser ScanArm, FARO Laser Scanner, FARO Gage, and the CAM2 family of advanced CAD-based measurement and reporting software.