Featured Video
This Week in Quality Digest Live
Third Dimension
CMSC
Prestigious Queen's Award Win for Third Dimension
Published: Thursday, May 21, 2015 - 11:01
(Third Dimension: Bristol, UK) -- Third Dimension, the leading supplier of hand-held precision measurement solutions, recently celebrated its success in being named as winners of a Queen's Award for Enterprise in the international trade category—the UK's highest accolade for business success. Representatives of the company will be attending a reception at Buckingham Palace in July in recognition of this prestigious achievement.
Approximately 140 Queen's Awards have been announced this year for outstanding business achievement in the fields of international trade, innovation and sustainable development. The awards are made annually by Her Majesty Queen Elizabeth II, and are only given for the highest levels of excellence demonstrated in each category.
Third Dimension has already been recognized for the export success of its ergonomic profile measurement GapGun system. This includes a recent win in the outstanding export category in the annual EEF Awards. The company was also described as a "champion for exports" by the judges of the South West Business Insider awards, where the company won the regional export category.
These awards are a result of exponential increases in overseas sales in recent years. In 2012 exports accounted for 64 percent of total sales, and this has increased to 84 percent this year. Overall, exports have grown five-fold in the past six years.
Third Dimension exports to more than 25 countries worldwide, with local support provided by its network of distributors. They also work with leading multinational companies such as Airbus, Volkswagen, Lockheed, Mitsubishi, and Embraer.
Peter Marchbank, CEO at Third Dimension states, "Exporting is now the lifeblood of our business. In the last five years we have invested heavily in our systems, processes, and people to enable our exports to increase substantially. This award is recognition of this, but especially celebrates the hard work of all our staff and international partners."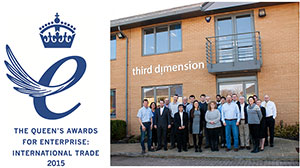 Third Dimension has recently launched the GapGun Pro, which is a part of their range of profile measurement systems that have the unique ability to measure without ever needing to touch the surface. GapGun Pro builds on all the key capabilities of the GapGun Plus series but with greatly increased speed, ease of use, improved portability, and a more rugged design. Key features include:
• New and improved functionality
• Ultra-fast processing capability
• An all-new ergonomic VChange sensor system. This facilitates measurement of a wide variety of feature types and sizes and enables sensors to be interchanged in a matter of seconds, improving the speed of inspection/operation on the shop floor.
• Fully integrated Wi-Fi
• Extra-high-capacity internal battery
• A high-definition color touch screen
About The Author

Third Dimension
Third Dimension develops and manufactures handheld and robotic laser measurement solutions that provide noncontact, optical, and precision profile measurement for manufacturers in the aerospace, automotive, and energy sectors. Established in 1995, Third Dimension is based in Bristol, United Kingdom.