This Week in Quality Digest Live
Capture 3D
CMSC
GE High-Accuracy, High-Throughput Inspection Technologies Challenge Winner
Published: Thursday, May 21, 2015 - 09:34
(Capture 3D: Miami, FL) -- A GE Aviation open innovation challenge designed to uncover new methods of conducting high-speed, automated inspections of turbine airfoils garnered 51 entries from 48 different participants in 18 countries. The winning entry was submitted by Capture 3D, of Costa Mesa, CA.
"The challenge was a fantastic way to broaden our exposure to potential new players and new technologies," says Wayne Spence, chief manufacturing engineer at GE Aviation. "Only two of the organizations that participated were previously known to us, and it's inspiring—and eye-opening—to see such a broad variety of submissions from around the globe."
Capture 3D used its ATOS Triple Scan III noncontact blue light 3D scanner, capable of measuring up to 8 million points per scan, to complete the challenge. "We were excited to have the opportunity to participate," says Capture 3D sales engineer Marc Demarest. "Innovation advances a current state. By innovating and sharing that knowledge, we are pushing each other to continually thrive for progression, improvement, and optimization."
Participants entering the challenge had to demonstrate the ability to automatically inspect the blade portion of an off-the-shelf Victorinox paring knife in three minutes or less with accuracy of 10 microns and repeatability of 5 microns. The paring knife was selected as a low-cost proxy for turbine blades. In addition to accuracy and repeatability, participants also had to demonstrate that their system would work in a manufacturing environment with dust, vibration, and variability in lighting and temperature.
As winner of the challenge, Capture 3D receives a $15,000 cash prize, and is eligible for a $35,000 developmental grant to aid in collaborative development and refinement of their winning inspection technology.
GE sponsors open innovation challenges across its industrial businesses as part of its embrace of entrepreneurial thinking, collaboration, and commitment to accelerating outcomes. "We are constantly challenging ourselves to be faster and simpler while putting the customer first," says Lisa Ralph, open innovation leader at GE Corporate. "Innovation challenges are a unique way to rethink what's possible by collaborating with entrepreneurs, universities, and the broader global community to ideate, test, and commercialize promising new technologies. It is an exciting and inspiring process that celebrates cognitive diversity and taps into the spirit of innovation that has been at the core of the company since its founding by Thomas Edison."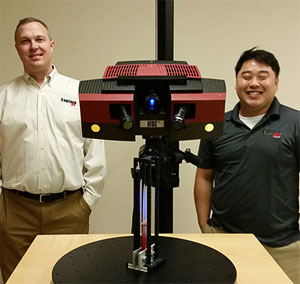 About The Author

Capture 3D
Capture 3D provides 3-D digitizer, surfacing, laser scanning, and dimensional inspection services. It also designs, manufactures, and supports 3-D scanners, and automated robotic and motion control systems. Capture 3D's high-resolution, optical scanner, ATOS, delivers 3-D measurement data for industrial components. Instead of measuring single points, full part geometry is captured in a dense point cloud or polygon mesh describing the object's surface and primitives precisely. Capture 3D is headquarted in Costa Mesa, California.