This Week in Quality Digest Live
Assembly Guidance Systems Inc.
CMSC
LASERVISION Captures, Analyzes and Documents AFP Inspection Data
Published: Thursday, February 18, 2016 - 15:31
(Assembly Guidance Systems: Chelmsford, MA) -- Providing fully automated inspection for the first time in high-performance composites manufacturing, Assembly Guidance Systems has shipped its first four LASERVISION units to automated fiber placement (AFP) manufacturer Electroimpact Inc., of Mukilteo, WA. "We are fully integrating LASERVISION into our AFP machine cell," notes Electroimpact engineer Todd Rudberg, "so that our customers can ensure alignment, place courses, and inspect their work product all from a single operator interface."
"With the integration of LASERVISION into its AFP machine cell, Electroimpact is offering its customers a comprehensive fabrication management system," declares Matt Zmijewski, Assembly Guidance chief operating officer. The LASERVISION system provides all of the functionality of Assembly Guidance's LASERGUIDE industrial laser projection along with the new automated inspection capabilities.
Rudberg explains that previous AFP systems would have to be stopped immediately when a course was flagged for inspection or correction, or the operator would have to undertake the tedious and time-consuming task of manually identifying the course after the ply was completed. An operator of the new integrated system, by contrast, can select the course to be inspected while standing at the system interface and, with one click, launch the inspection sequence.
To perform the inspection task, LASERVISION automatically projects the centerline or boundary of the course to be inspected and then captures images with calibrated laser references. The machine vision component of LASERVISION instantly aims a high-magnification camera system. The captured high-resolution images, which can detail even small complex regions, are enhanced before electronic delivery to automated image analysis algorithms. Then the images are automatically archived and combined with documentation associated with each individual part produced.
"With these capabilities, LASERVISION eliminates the wait time for inspection and the challenges of access and lighting, and adds physical evidence that the build sufficiently matches the design," Zmijewski notes. "LASERVISION provides automatic process control and hard documentation—and simultaneously reduces cycle time in manufacturing."
Regarding software, LASERVISION is able to utilize information directly from design data, enabled by Assembly Guidance's software development kit (SDK). "This kit provides a library of software development tools that allows composites manufacturing systems to control Assembly Guidance laser projectors and image-capturing optics with their software," Zmijewski explains.
The integration also improves alignment accuracy by a factor of five, Rudberg reports. "By having the laser system integrated, the locations of the AFP machine, mandrel, and laser system are all precisely known relative to a common coordinate system, which results in considerably reduced discrepancy in projections and actual ply boundaries." The system creates a transform such that projection data matches the actual tool location, accounting for inconsistencies in mandrel loading, for tool rotation and deflection, and so on.
The bottom line for Electroimpact, Rudberg notes, is that the company can enable its AFP customers to increase both quality and productivity. "LASERVISION helps our AFP machine cells to virtually eliminate pre-inspection calibration and setup time, and to minimize actual inspection time while enhancing inspection accuracy and documentation."
Zmijewski characterizes the four-year working relationship between Assembly Guidance and Electroimpact as "an ideal partnership. A lot of synergies have helped evolve our vision and take it to the next level. Electroimpact has prompted us to push the envelope and give them a solution they need for their customers."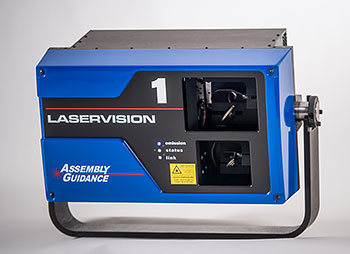 About The Author

Assembly Guidance Systems Inc.
Assembly Guidance Systems Inc. was founded in 1988 to develop, deliver, and support the use of lasers to display 3-D data in stand-alone and integrated systems to enhance manual productivity. Assembly Guidance has been a driving force in the evolution of high-performance laser projection systems for manual manufacturing and quality monitoring. Assembly Guidance has performed every major "first" in laser display for manufacturing.