Groups Assess ISO 9000,
ISO 14000 Compatibility
Several groups are currently considering the compatibility between the ISO 9000 and ISO 14000 management system standards. But integration is no longer an issue.
"There is not going to be integration," says Joe Cascio, chairman of the U.S. TAG to TC 207. "Integration implies that the standards are somehow going to be molded into one document. That is not in the cards at all."
Cascio identified four groups considering the compatibility of the standards:

ISO TAG 12 is a strategic group that reports directly to ISO in Geneva. Its members come from TC 176 and TC 207.

A working group formed by the leadership of TC 207 and TC 176.

The leadership of subcommittee 1 of TC 207 and the leadership of subcommittee 2 of TC 176, which respectively are responsible for the management systems in environment and quality, have formed a working group. They are looking at compatibility specifically with respect to the management standards, quality management and the environmental management standards.

A working group has been formed by the respective leadership of subcommittee 2 of TC 207 and subcommittee 3 of TC 176, which deal with auditing standards.
"It's a question of compatibility and harmonization," says Cascio. "The preliminary consensus from the experts that have worked on these documents is that there are no incompatibilities in the standards."
The language of the standards may be restructured in order to make the parallels between them more obvious and to make the language clearer, which will result in the standards being easier for people to understand and implement, notes Cascio.
Although there is no need to integrate the management standards, two sets of standards for environment and quality are redundant, says Cascio.
"One set of standards for auditing could serve both purposes," says Cascio. "In that area, integration makes a lot more sense."
The Quality World Loses a Friend
Donald W. Marquardt, a founding member of the Registrar Accreditation Board and chairman of the U.S. TAG to TC 176, died on July 5, after suffering a heart attack while on a business trip in Mexico two weeks previously. He was 68 years old.
"RAB has suffered two losses," says Joseph R. Dunbeck, RAB's chief executive officer. "First, Don's vast and intimate ISO TC 176 knowledge has guided RAB for eight years. Second, Don's wise judgment and counsel has contributed mightily to the growth of RAB's credibility. We have lost a mentor and good friend."
Marquardt leaves behind an impressive body of achievements and hard work. He spent 39 years with DuPont Co., during which time he founded and managed the DuPont Quality Management & Technology Center. He served as president of the American Statistical Association and was an elected member of the International Statistical Institute. He received ASQ's Shewhart Medal, the ASA's Founders Award and the Meritorious Service Award from the American National Standards Institute. Since 1990, Marquardt served on the RAB board of directors. He published more than 60 pieces of work, including research papers, book chapters and magazine articles.
Besides serving as chairman for the U.S. TAG to ISO TC 176, Marquardt was also a member of the Chairman's Strategic Advisory Group to ISO TC 176 and the Chairman's Advisory Group, U.S. TAG to TC 207 on Environmental Management.
In 1991, he established his own company, Donald W. Marquardt and Associates, which provides consulting and training in quality management, quality assurance, ISO 9000 standards, applied statistics, strategic planning and organizational change.
Those who wish to remember Marquardt may make a contribution to the Green Hill Presbyterian Church Memorial Fund, P.O. Box 3892, Wilmington, DE 19807.
QS-9000, Third Edition -- Delayed Until 1998?
The release of the third edition of Quality System Requirements QS-9000, scheduled for September 1997, may be delayed until the first quarter of 1998. The Chrysler/Ford/General Motors Supplier Quality Requirements Task Force -- the body responsible for writing and revising the QS-9000 standards -- expected to know by mid-July whether the standard will be postponed and for how long, according to The Informed Outlook newsletter.
The reason for the delay? Task force members currently are unable to reach a consensus on a number of issues involving the upcoming editions of QS-9000, Product Part Approval Process and Quality System Assessment, all of which were planned for simultaneous release. Because the task force is attempting to coordinate the text of QS-9000 -- which will have minor additions to improve its clarity -- with the QSA and PPAP manuals, the two supporting manuals may also be delayed. However, the task force has indicated that one or both of the supporting manuals could be released before QS-9000 if the specific issues relating to them are resolved.

Big Six Dominate North American Auto Industry
Watch out, Big Three: The North American auto industry is now a Big Six scenario, with Honda, Nissan and Toyota continuing to expand their assembly and powertrain operations, according to The Harbour Report 1997, an annual automotive industry study.
The report finds that foreign-owned and joint-venture manufacturers now have a combined assembly capacity nearly equal to Ford Motor Co. The study also reports that the productivity gap between vehicle assembly operations is narrowing.
Nissan's Smyrna, Tennessee, plant -- which produces subcompact, compact and small pickups -- was named the most productive North American assembly plant and benchmark manufacturer for the fourth consecutive year, utilizing 2.23 workers per vehicle. Nissan's profits, however, were not as impressive; for the fourth year in a row, the company registered a loss of $287 per vehicle.
Honda is the industry's benchmark company in metal stamping operations. The company records a profit of $182 per vehicle. Toyota's Georgetown, Kentucky, engine plant is the most productive and, at $957 per vehicle, Toyota is No. 2 for vehicle profits.
Ford remains the best producer of the Big Three, with 3.09 workers per vehicle, and ranks No. 3 in profits, with $794 per vehicle. The company continues to dominate six- and eight-cylinder productivity and transmission productivity.
General Motors registered the largest improvement in labor productivity of the domestic automakers for the fourth year running, increasing 5 percent. GM also ranks fourth in profits, earning $234 per vehicle. Chrysler, for the fourth consecutive year, is the highest profit producer, recording a $1,868 per vehicle profit before tax.
For more information on The Harbour Report 1997, visit Harbour and Associates Inc.'s Web site at: www.harbourinc.com
Quality Management Delegation to Visit China
A 30-member delegation of ISO 9000 and TQM experts will visit China in August to share their knowledge with Chinese manufacturers. The Quality Management 9000 delegation, led by Burton S. Liebesman of Lucent Technologies -- author of Using ISO 9000 to Improve Business Processes -- will be in the People's Republic of China August 5 - 16, visiting Beijing, Dalian and Shanghai.
Liebesman's primary objective for the trip is to exchange information with Chinese organizations. The delegation members, chosen for their expertise in ISO 9000 and total quality management, will teach and give presentations about the ISO 9000 standards to the Chinese manufacturing community, including aircraft, automotive and heavy machinery manufacturers.
The Citizen Ambassador Program of People to People International is administering the exchange. People to People International is a nonpolitical, private-sector organization, founded in 1956 by President Eisenhower to improve communication between U.S. citizens and the citizens of other countries. The program's management and operation is conducted by the U.S. State Department. The president of the United States serves as the program's honorary chairman.
Delegation member Clare M. Kroll, quality assurance director with Shimadzu Precision Instruments Inc., says the trip will offer opportunities to work with ISO 9000 in a new context.
"It's going to further my experiences with another country and their efforts to gain knowledge of the ISO 9000 standards," says Kroll.
A recent survey conducted by the Automotive Industry Action Group has boiled down QS-9000 registration into some interesting numbers.
The average costs for QS-9000 certification are:

Preparation -- $36,900

Consulting/training -- $26,000

Registrar -- $18,300

Software -- $5,100

Total costs -- $118,100

Average benefit -- $304,300
Other interesting QS-9000 facts:

As of April 1, 1.3 million QS-9000 manuals had been distributed; 400,000 were distributed into 63 foreign countries.

Twenty-two accreditation bodies are QS-9000 approved; 66 registrars are QS-9000 approved.

There are currently 1,734 QS-9000 certified auditors and 1,378 certified suppliers (993 in the United States alone).
Magazine Mailer
Adopts Quality Initiative
About three years ago, Communications Data Services Inc. -- a magazine fulfillment service headquartered in Des Moines, Iowa -- hired consultants to study their company and the industry as a whole. "The question that we were looking at was, 'Where do we need to go from here?' " says Jim Hayward, quality facilitator for CDS.
The consultants returned with a surprising conclusion: CDS was considered the best in the business, but the fulfillment industry, overall, was considered poor. They were, in effect, the "best of a bad lot."
Serving as the connecting point between publishers and subscribers, CDS -- with six Iowa sites and 3,000 employees -- maintains databases for about 350 magazines, serving more than 90 million subscribers. CDS generates bills and renewals, creates labels and handles customer service issues, such as changes of address.
The company decided to implement a quality initiative to further distinguish itself within its industry. "We had the belief that there was probably more capability in our process than we were getting out of it," says Hayward. CDS identified what processes most affected its clients in terms of satisfaction or dissatisfaction, and then formed employee teams, teaching team members problem-solving tools and methodologies, and introducing them to process improvement philosophy. Employees on the front lines of the organization began to feel more involved and empowered about improving their processes, which increased employee satisfaction and reduced the company's turnover rate.
CDS has improved its processes considerably, reducing cycle and turnaround times. They increased the mailing rate from 50 to 60 percent of the mail going out on time to a current rate of more than 90 percent, "a very, very respectable number, if not unheard of" in the industry, says Hayward. The company also reduced unnecessary mailings, which saves its clients money on postage and reduces the frustration of magazine subscribers.
While Hayward emphasizes that CDS's quality initiative is only 3 years old, he is optimistic about the improvements yet to be made, as well as those that have already been achieved, especially regarding the people in the process.
"I think we've opened people's minds and broadened their perspectives a bit," he says.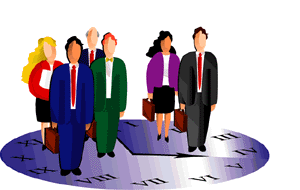 Blended Work Force
Helps Control Costs
Strategic use of a "blended work force" has a direct and positive impact on business objectives and gives companies a jump on their competition, according to the study "Meeting Business Objectives With a Blended Workforce."
Conducted by the William Olsten Center for Workforce Strategies, the study indicates that highly successful organizations use regular, full-time workers for core functions, while relying on assignment/contract employees for special assignments or specific skills for shorter periods. Among the respondents, 71 percent report that their use of a blended work force has helped to control costs, 64 percent say it has contributed to improved productivity, 52 percent cite improvements to customer service, and 51 percent report reductions in cycle time.
The study has also identified a set of "best practices" for the most effective implementation of this emerging work force strategy:

Establish clear boundaries and skill requirements for assignment/contract employees.

Develop human resources policies and practices to support the blended work force.

Implement parallel selection criteria for core and assignment employees.

Establish an integrated communications program.

Use an onsite manager.

Integrate assignment/contract workers into company teams.

Provide job training for assignment/contract employees.

Establish measurements for success.
Measuring Career Development Programs
Employees in finance, legal and information systems have historically shown higher turnover and lower productivity rates compared with other employees. Arthur Andersen Business Consulting recently conducted a benchmark study to examine career development and employee orientation for employees in these areas, surveying leading organizations such as Ford Motor Co., Hewlett-Packard, Walt Disney World and Sun Microsystems.
The study revealed a surprising contradiction: While participating companies increased the focus on career development paths for these employees -- setting aside larger training budgets and implementing mentoring programs -- most had no formal system for measuring program effectiveness.
Ann Moncus, senior manager at Arthur Andersen Business Consulting, offers the following advice to companies evaluating orientation and career development programs:

Know what you're trying to accomplish. Before implementing any program, a company should define and articulate its objectives, and establish the specific skill sets different employees need. Without these objectives, there is nothing to measure against.

Identify measures related to cost, time and quality. This includes turnover rates, productivity levels, job satisfaction, and hours and dollars spent on the programs. Implement long-term correlations between training programs and employees' success.

Establish a benchmark to measure success throughout the program's course.

Involve employees at all levels. Engage entry-level workers to veterans, secretaries to executives. Include the trainers themselves; they offer important perspective and can provide peer and supervisor reviews.

Use a variety of methods. Include everything from short questionnaires to focus groups to gage program effectiveness. The more data points you have, the more reliable your information will be.
Philip Crosby Returns to
Lead Company
Philip Crosby has bought back Philip Crosby Associates from Proudfoot PLC. The new purchase agreement was completed early in April, with Crosby returning as chairman and CEO. The company is now called PCA II.
"It's a new company," says Wayne Kost, PCA II's chief operating officer. He also noted that PCA II is trying to gear products and services toward individuals.
The new company will differ from the old in the "delivery of information," explains Crosby. Whereas before, Philip Crosby Associates focused on teaching classes directly to clients, PCA II will rely on licensing companies to help provide its quality management education and training.
Proudfoot, a consulting company, purchased PCA in 1989, and Crosby left the company under mutual agreement in 1991. Crosby cites two reasons for leaving: He had reached age 65 -- the age at which he thought it suitable to retire -- and he had policy differences with Proudfoot over the way the company should be run. "They never really realized it was an education company," Crosby says of the former owners.
What does Crosby look forward to accomplishing with PCA II? "I want to make sure that the concepts on quality and leadership are available to future generations of executives and managers that are growing up now," he says. This is one reason that he spends a lot of time at MBA schools, he adds.
Crosby's second reason: "I was glad to get my name back and put it on something that will go on for a long time."
For more information, visit PCA II's Web site at: www.philipcrosby.com