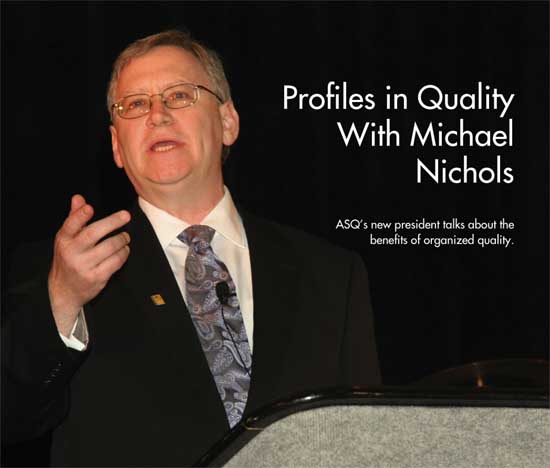 With more than 100,000 individual and organizational members, the American Society for Quality promotes learning, quality improvement, and knowledge exchange to improve business results, and to create better workplaces and communities worldwide. Since 1991, ASQ has administered the United States' premier quality honor—the Malcolm Baldrige National Quality Award , which annually recognizes companies and organizations that have achieved performance excellence.
Globally, ASQ has formed relationships with other nonprofit organizations that have comparable missions and principles. These strategic alliances are helping to meet the quality needs of companies, individuals, and organizations worldwide.
ASQ members have informed and advised the U.S. Congress, government agencies, state legislatures, and other groups and individuals on quality-related topics.
Here, ASQ's new president, Michael Nichols, discusses how his organization is growing and changing to meet the challenges of the ever-evolving quality marketplace.
Quality Digest: In your inaugural address you mentioned that you were introduced to ASQ by a professor while attending grad school. What were you studying, and how was it related to quality?
Michael Nichols: The course was production operations management. We covered a major section on quality where we read books by Juran, Crosby, and Deming in addition to reviewing the current periodical literature on quality. The professor was very clear that we would not be able to learn everything we needed from our employers to have a successful career. He encouraged us to participate in professional societies as a way to complement the knowledge we gained from work.
QD: What are the benefits of ASQ membership for a company or an individual?
MN: ASQ offers the latest in knowledge on the quality tools and sciences for both individuals and organizations. This ranges from Web-based training courses to local dinner meetings. The talent in our member communities comprises the breadth of experience to be found in the field. Most come to us for information and then recognize the wealth of knowledge in our different communities that becomes available to them.
QD: What steps is the organization taking to retain and recruit members?
MN: We are constantly evaluating the benefits that are available to our members and trying to ensure that we're meeting their needs. The membership model adopted in 2004 offers individual and organizational members much more freedom in designing their own membership experience. Members have asked for more information to be delivered to them through the Internet and asked that ASQ provide nonmembers much greater access to our body of knowledge. Members asked that ASQ enable more forms of community—ways of getting together—whether locally or internationally, whether short-lived or enduring. Members want more help in reaching their senior managers with a compelling story and with evidence that quality pays, and we are doing that through the initiative called "The Economic Case for Quality." The most sweeping change underway is a complete remaking of our education and training programs to match members' needs to have local and inexpensive ways of updating their knowledge. Web-enabled learning is already making a difference, and more changes are in store. Recently, our Each One Reach One program has been tremendously successful in recruiting new members. The good news is that it's working. ASQ has been able to welcome more new members in each of the past four years. Member loyalty is up, as evidenced by our research and the third consecutive year of improved member retention.
QD: What can you tell us about ASQ's Living Community Program?
MN: The Living Community model came about as ASQ realized that it needed to transform itself to meet the needs of our members, customers, and the quality community at large. We did this by building new, flexible memberships and creating member communities to help grow the quality community.
QD : ASQ's social programs, such as the Community Good Works Initiative in Porto Alegre, Brazil, indicate that the organization is involved in quality of life issues as well as business quality. Can you tell us how ASQ views the relationship between these two aspects of society?
MN: The ASQ Community Good Works initiative provides grants to not-for-profit, community-based, or community-serving organizations and public agencies that directly serve local communities. What's important here is that there are many ways the quality methods that we practice can be used to benefit society. By giving back to the communities we live and do business in, we are demonstrating how robust quality actually is. It goes a long way to breaking down the barriers in the business world when you show someone how quality is being used in nontraditional areas such as education, health care, and not-for-profit organizations.
QD: What, in your opinion, are the most pressing challenges and most tantalizing opportunities facing the quality industry today?
MN: All of us realize that we are now in a global community. This presents us with wonderful opportunities to help others and learn many new things as well. As the leading quality society in the world, how do we act globally and locally as the leader in quality? How do we ensure that our members perceive the same value from our organization no matter where they are in the world?
QD: Are there any thoughts on becoming an "International" rather than strictly an "American" Society for Quality?
MN: We are already an international organization; we have members in 120 countries. What we need to figure out is how to better deliver value to our members worldwide. This helps us locally as well. A friend tells a story of a quality problem his company had with a supplier plant in another country. After my friend talked to the suppliers, he and his associates attended a local (i.e. non-American) ASQ meeting and learned some new ways to address their problems. Eventually, several of the supplier's employees became certified by ASQ. This had a very positive effect on the quality at my friend's company.
While global membership grows, ASQ is working to support what we call quality practitioners. So, in addition to quality professionals who devote their careers or a significant portion of their careers to mastering the tools of quality, we're serving people who use quality every day in their work but wouldn't call themselves quality professionals. If quality is indeed everyone's job, then ASQ should be everyone's society.
QD: What are your goals for your term as president of ASQ?
MN: We will continue to focus on the initiatives started by my predecessors, such as the Living Community model and member value programs, and also plan many new initiatives in the year ahead. We hope to span borders, practices, and professions to create one generation focused on quality. We want to communicate more effectively, grow awareness about quality initiatives in all sectors of society across the globe, and continue to ensure and make ASQ the resource of choice for member and nonmembers alike.
QD: How will you achieve these goals?
MN: As a membership organization, we work closely with our dedicated members and committed staff. Our 250 sections support members locally and our 22 divisions have been actively involved in cultivating knowledge as we move forward. By creating essential activities and initiatives for the year ahead, we can focus on our most important goals, develop plans, and work closely with the board of directors to achieve them.
QD: What do you consider the most valuable or crucial aspects of applying quality ideals and protocols to business?
MN: In one word, relevance! In addition to constantly looking for new quality tools, we must continue to find ways to make our existing body of knowledge relevant. This means continuing to develop new examples of how these tools can be applied in new markets. I shared a story in my acceptance speech about a recent effort helping a friend of mine who owns a furniture company, a supposedly dying industry, using the simplest of tools: the process map. I led his management team through an exercise using nothing more technical than a sticky note.
As a follow-up to this story, my friend called last week to tell me about his most recent trip to China, where he was meeting with the leadership team for a vendor trying to work through a problem in their order process. At one point he reached into his briefcase and pulled out a pad of stickies and walked the team through an exercise to find the gaps in the process. He couldn't wait to share this story with me!
This emphasizes my point that we need to continually find new ways to make what we do relevant to more people, no matter where they are in the world.
QD: With the North American manufacturing base shrinking, which service sectors is ASQ targeting for new members?
MN: Although North American manufacturing may be shrinking, ASQ knows that there is still a large opportunity in manufacturing. We are not turning our back. But the service sectors are showing increased interest in quality; it's across the board but not deeply practiced yet. Health care and education are two expanding sectors, and the not-for-profit sector is showing ever more interest in the benefits of quality. There is a lot of opportunity out there; the biggest challenge is awareness. We assume knowledge of quality—modern quality—is widely held and understood, yet the evidence points to the contrary.
QD: What is the best way for a person within a company to guide it toward achieving ASQ ideals?
MN: Actually, the challenge is the opposite. What's the best way for ASQ to support a person in his or her efforts to guide a company toward quality? As people dream of organizations that thrive through quality, ASQ's goal is to support them every step of the way.
QD: What do you see for the future of ASQ?
MN: I see a future where people can participate in many new ways in addition to the ones we have today. A member could attend a local meeting and then later jump on a Webinar hosted half a world away. This is why we need to deliver value in many different ways. In the future, I see ASQ becoming the conduit for people worldwide to share, learn, and do quality. To do this we need to make sure that we deliver high-quality programs at the local level as well as the national and international levels. We need to be the best resource for research, education, and certification to meet the needs of our current and future customers.
We also need to grow in our ability to bring attention to the benefits of quality and skilled quality professionals. Nothing will hurt quality more than poor awareness. Until consumers demand the quality they deserve and executives understand the role quality plays in their competitiveness, ASQ's job won't be done.
Our members increasingly ask that ASQ help demonstrate the power of quality to make the world a better place. Our Community Good Works program is just one example of our efforts to enable members to work in their local, national, and international communities to demonstrate the power of quality to solve problems and reach lofty goals. It is time, our members say, to think larger than organizations.
If, as Joseph M. Juran envisions, the 21st century is to be the century of quality, our future is bright and our opportunities are nearly limitless.
About the author
Carey Wilson is Quality Digest's news editor.